As I said in my article about the lamp in wood, natural materials and nature in general are all the rage in interior decoration, with the aim of recreating habitats increasingly healthy and zen.
Wood has invaded not only our houses, but also many objects of our everyday life. I have selected for you the 10 most unusual and original wooden objects of the time.
To begin with, this bike created by the designer Jan Gunneweg is made from solid walnut and yet it weighs less than 15 kg. Unlike other models in which only the frame is made of wood, in this case the whole bike is made of wood, including rims and fenders, and if you look closely at the picture, you will notice that it works without brakes or gears! It is a fixed-gear bicycle in which the transmission has direct drive with the rear wheel through the chain and therefore it is possible to slow down by acting only on the pedals.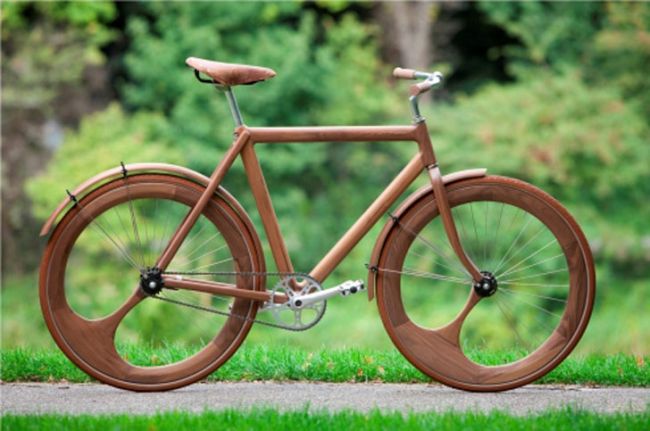 For the latest skiing of this year, these wooden skis of the Bohème brand are remarkable objects. 34 hours of work have been required to obtain this result of perfect craftmanship, realized with wood of your choice. In August 2011 Boheme was also rewarded the Label Entreprise du Patrimoine Vivant by the Ministry of Economy, Industry and Finance for its handcraft skills and qualities.


Atisha – All Moutain by Bohème
In addition, to be on time on the ski slopes, here is WeWood, the suitable watch completely free of toxic materials. Associated with American Forests and Trees for the Future, WeWood plants a tree for each watch sold, with the goal of planting 100 million trees by 2020.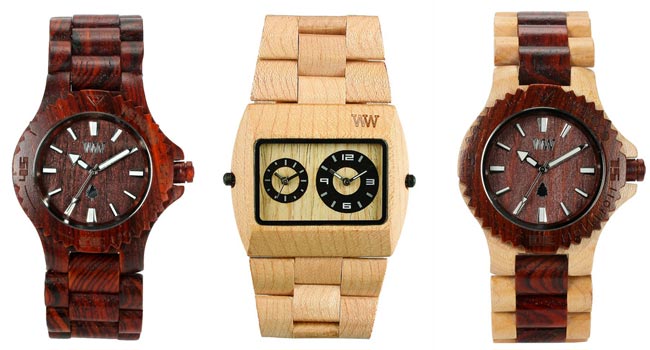 Watch We Wood US : from left to right WeWood Date Brown – WeWood Jupiter Beige – WeWood Date Beige/Brown
And to prolong the call of nature up in the office, here's the ecological mouse Alest Rukov. Three steps are required for the production of each mouse: the first one is to prepare the raw material for the manufacture (between 3 months and 1 year for the natural and final drying ), then to mill the components (1 day), and finally to compose and assemble the mouse (from 3 to 4 weeks). All the mouse components come from a single block of wood from environmentally friendly plantations.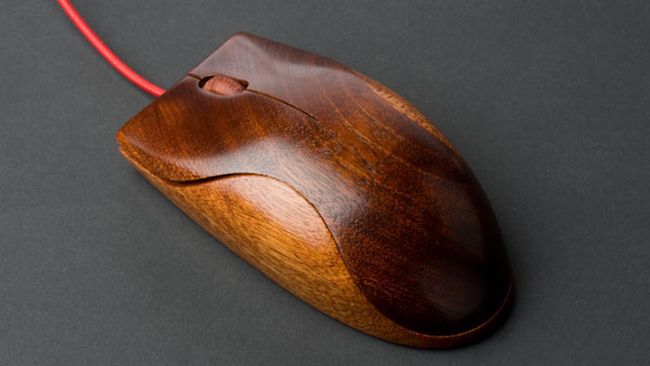 To see things more clearly, these glasses Urban Spectacles are carved from a single block of wood from a self-taught craftsman full of creativity.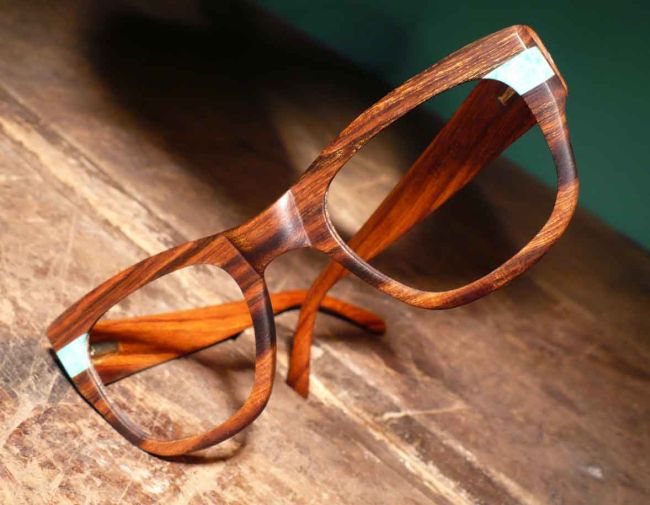 In the picture below you can see the model of another company, Shwood Sunglasses, that distributes, designs and creates handmade wooden glasses, very trendy in Beaverton (Oregon, USA).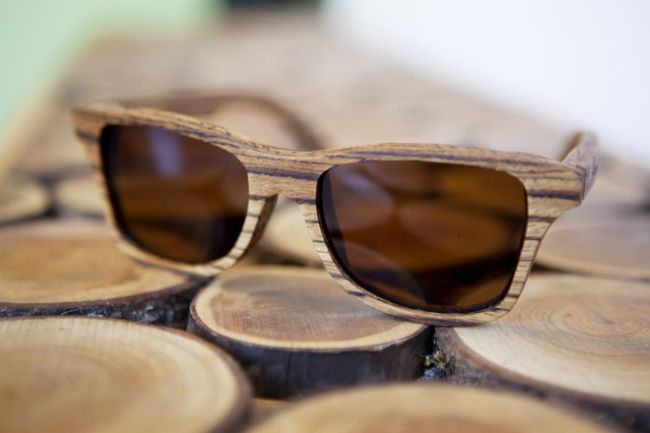 Wood has been enormously successful also for floorings, especially when it combines the aesthetic virtues of parquets and the techniques of porcelain stoneware, such as wood effect tiles of Novoceram: Noa and ceramic floors Origine, two collections each one interpreting the parquet porcelain stoneware in its own way. Here are some photos.
Noa represents the evolution of ceramic wood in a hyper-naturalistic interpretation of 4 natural essences corresponding to 4 colors: Natural Noa, Noa Flotté, Noa Bruni and Noa Blanchi. It is available in traditional ceramic formats of 45×45 cm and in rectangular sizes more similar to those of parquet: 15×90 cm and 22.5×90 cm. Finally, the original 30×60 size is also available, in order to vary laying patterns.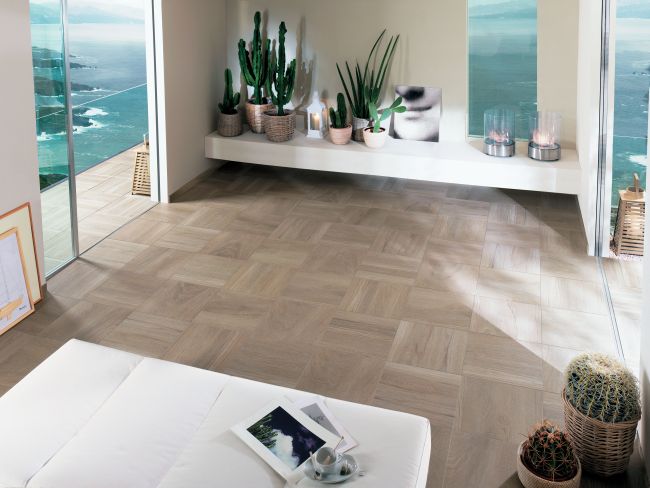 Noa Flotté 45×45 cm.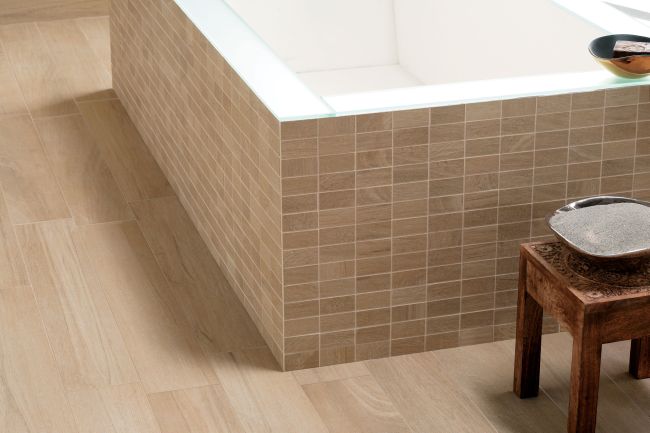 Noa Naturel 15×90 cm and mosaics
Origine interprets shades and texture of wood in ceramics. Its 5 colors inspired by natural elements show pleasing reflections and recall the latest trends in design.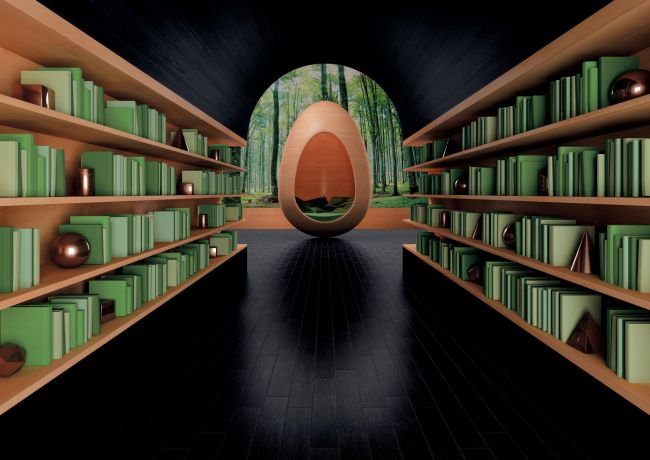 Origine Charbon 15×90 cm

Origine Cire 45×90 cm
Even alarm clocks adapt to this trend. Here is the clock radio Epok (RR40) by Bigben: manufactured from a block of wood, it is equipped with all the most advanced functions of an alarm clock of the latest generation.
With great simplicity, a wooden cube disguises itself as an alarm clock and it will also let you sleep: the LED lights that illuminate the hours are lowered in intensity by 50% between 6:00 pm and 7:00 am, to ensure greater darkness in the room. Some might say that this is also a good way of saving energy…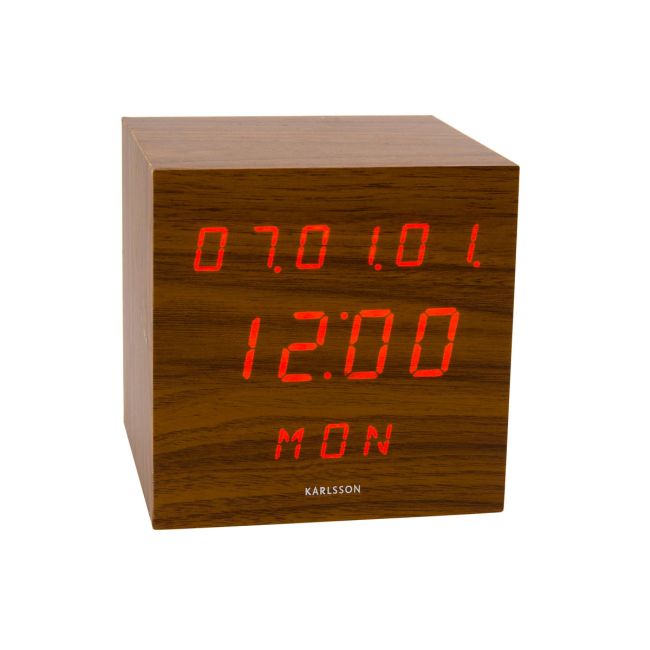 Karlsson Alarm Clock Cube Led Noyer KA 4819 – Design Matthias Zschaler
Who said that wood and water are at odds? Here are some models of bathtubs made of wood.
Below there is a bathtub made in wenge by Alegna, through a manufacturing process in which the wood is compressed and saturated with resin. In this model it is possible to fill the tank to the brim, to completely submerge shoulders and neck in hot water (the pebbles are used to prevent water from overflowing).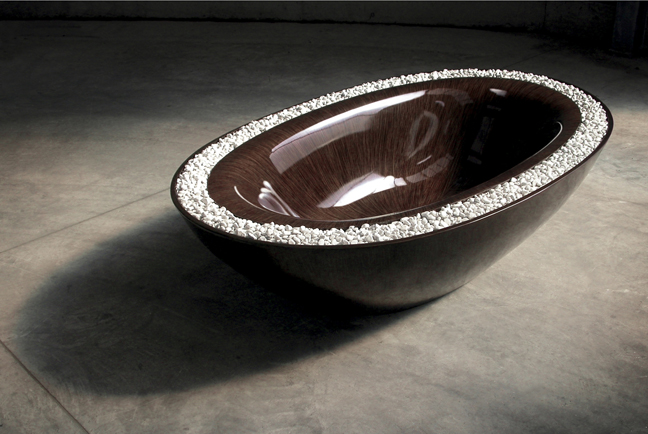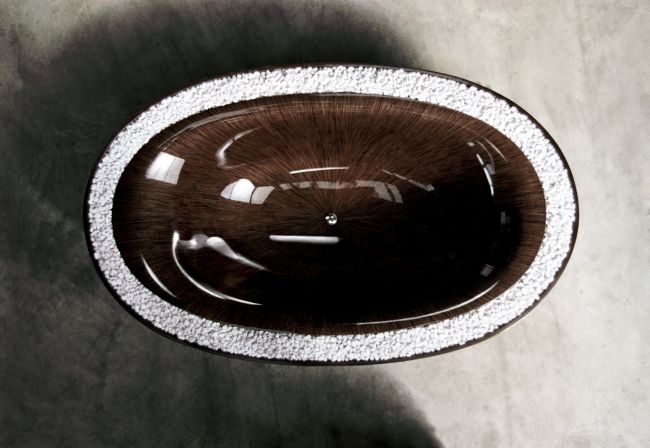 Laguna Spa – Alegna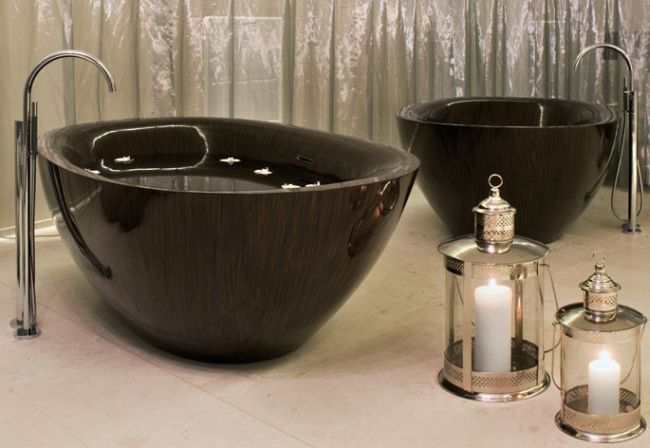 Laguna Pearl – Alegna – selected for the German Design Award 2013
But there exist also products that imitate wood faithfully, as these sweets. By now you should know me and I allowed myself to be tempted by gluttony and therefore I show you these extraordinary cakes that look like wood!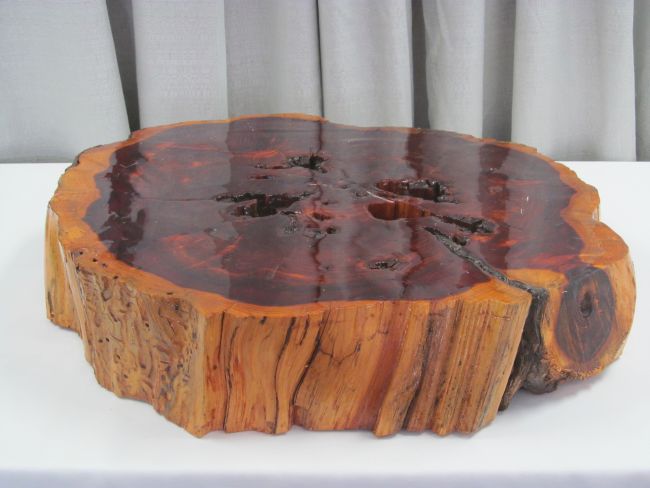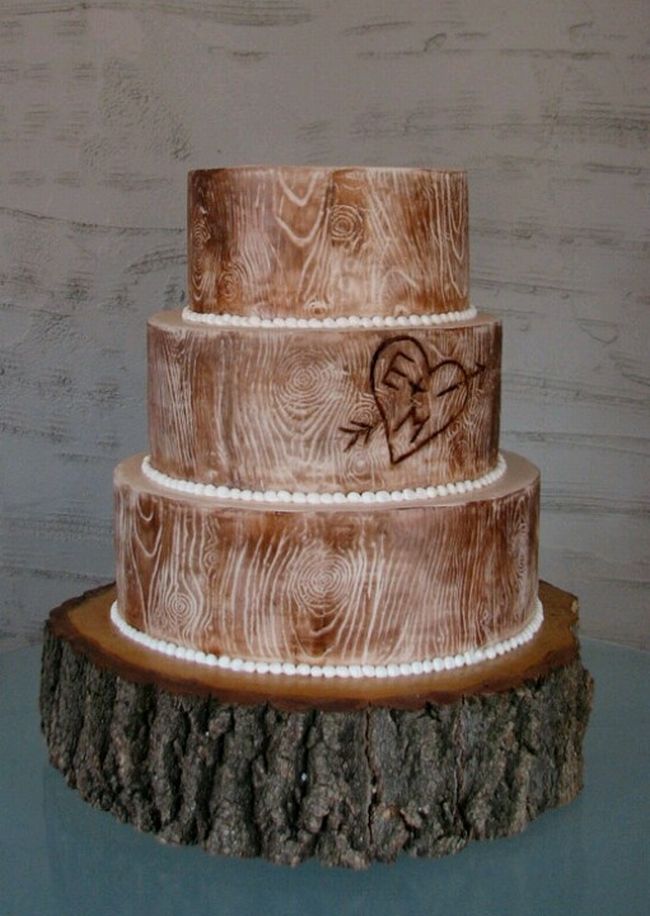 A touch of romance with the initials carved on this trunk / wedding cake.
And to continue on this path, here is a wedding dress of the French fashion On Aura Tout Vu carved in wood and exposed to the Cité Internationale de la Dentelle et de la Mode in Calais. The exhibition tells the story of the tulle and lace industry in Calais imported from England in the early nineteenth century. On display also clothings by Dior, Givenchy and Chanel.