France will participate to Expo 2015 in Milan, from May 1 to October 31. The French pavilion, which fits into the overall theme of the World Fair "feeding the planet, energy for life," slogan to "produce and feed differently."
1) Presentation of the French Pavilion
Presentation
It is estimated that in 2050 the earth will host nine billion human beings. To respond to issues related to feed humanity, the team that developed the concept of the French pavilion, has imagined the show as a place of abundant food that presents the agricultural solutions studied by France.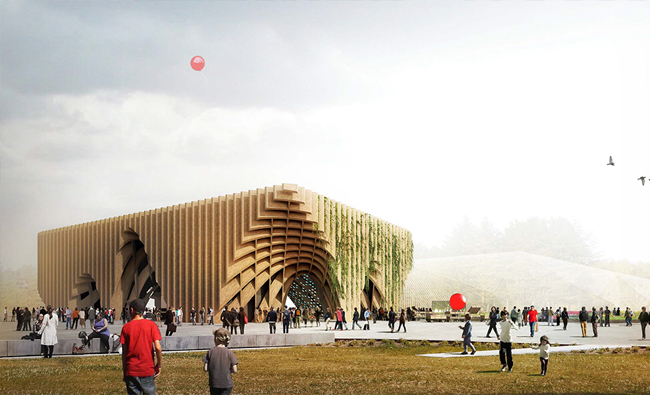 ©expo2015.org
The French pavilion was designed with reference to the criteria of respect for the environment: energy saving and waste recycling.
This building with a structure made of wood and glass has been conceived in order to be subsequently completely disassembled to be reassembled in other places. The wooden structure is composed of an infinite number of pieces of different curvature and fixed together in an invisible way.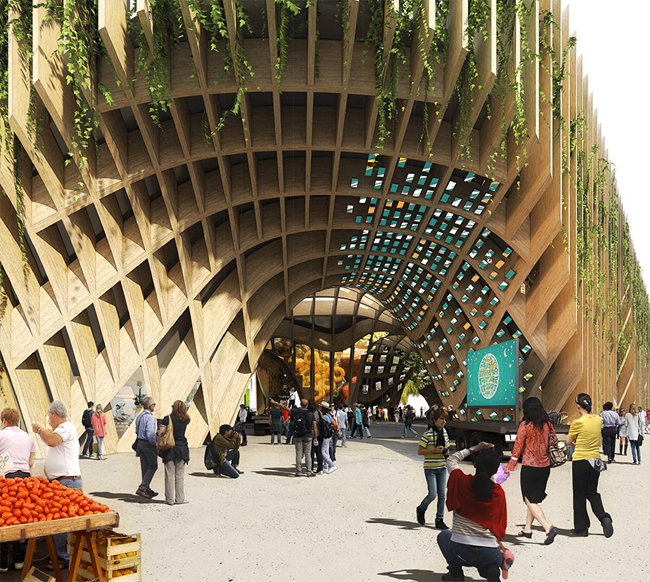 ©expo2015.org
Vegetables and herbaceous plants are cultivated on the facades, at the ceiling and on the roof.
The design
The project was carried out by the agency XTU Architects. The pavilion has a total area of 3592 square meters, with a floor area of 2,000 square meters. The estimated cost is approximately 20 million Euros.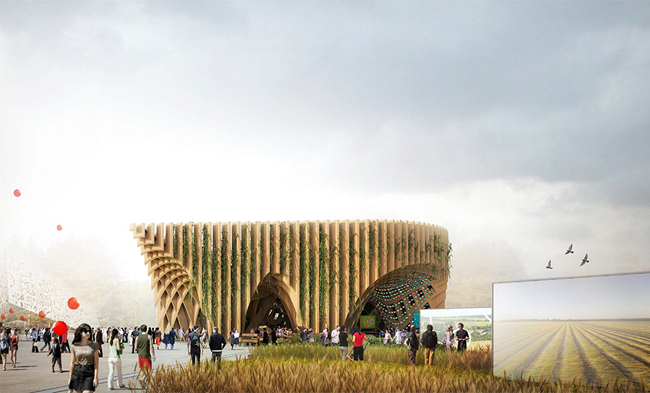 ©expo2015.org
The goals
The objectives of the French pavilion are four: to present the French contribution to food self-sufficiency in the world, promoting the "produce more and better", aid to developing countries to improve their food self-sufficiency and, finally, the promotion of quality food for reducing health risks International but also to protect the nutritional balance and continuity of the culinary traditions.
The different spaces
In addition to the exhibition space, the pavilion has a restaurant that will serve the vegetables grown in terraces, a brasserie and a snack area and a boutique where are offered many quality products and a space demonstration of French culinary savoir faire.
2) Ispiration
Anouk Legendre of the agency XTU Architects explains in an interview that the building is a "building landscape" inspired by the hills of the French countryside and is also a large covered market in tribute to halles Baltar, who were long the belly of Paris . the pavilion is a place where everything is produced and consumed locally.

© Expo 2015 http://www.expo2015.org
3) France and feeding in numbers
Agricultural land in metropolitan France in 2010 corresponded to 54% of the territory and were divided as follows: 36% of crop production, forestry 2%, 18% livestock and other agricultural products. Agricultural production in 2012 reached 71.2 billion euro. 200 farms disappear each week on average in France.
42% of French people seek pleasure in food
the French throw on average 20 kg of food per person per year
4) The project of the French pavilion in a video: