Switzerland will be present at Milan Expo 2015, which will take place from May 1 to October 31. Discover the Swiss pavilion and its peculiarities!
1) Presentation of the Swiss Pavilion
Presentation
The theme of the Swiss Pavilion is "Confooderatio Helvetica." Switzerland is the first country to have formalized its presence at the Universal Expo of 2015. The idea behind the creation of the Swiss Pavilion is to demonstrate the inadequacy of world food supplies.
The pavilion combines traditional and modern elements in its construction.
To deal with the theme of scarcity of food resources, the Swiss team has bet on a participatory concept that engages visitors. An original and impactful idea: 5 silos of foodstuff of the country are located in the pavilion, and visitors will be able to use them as they please. But beware, if the visitor exceeds its quota limit he deprives other visitors of the possibility of subsequent use.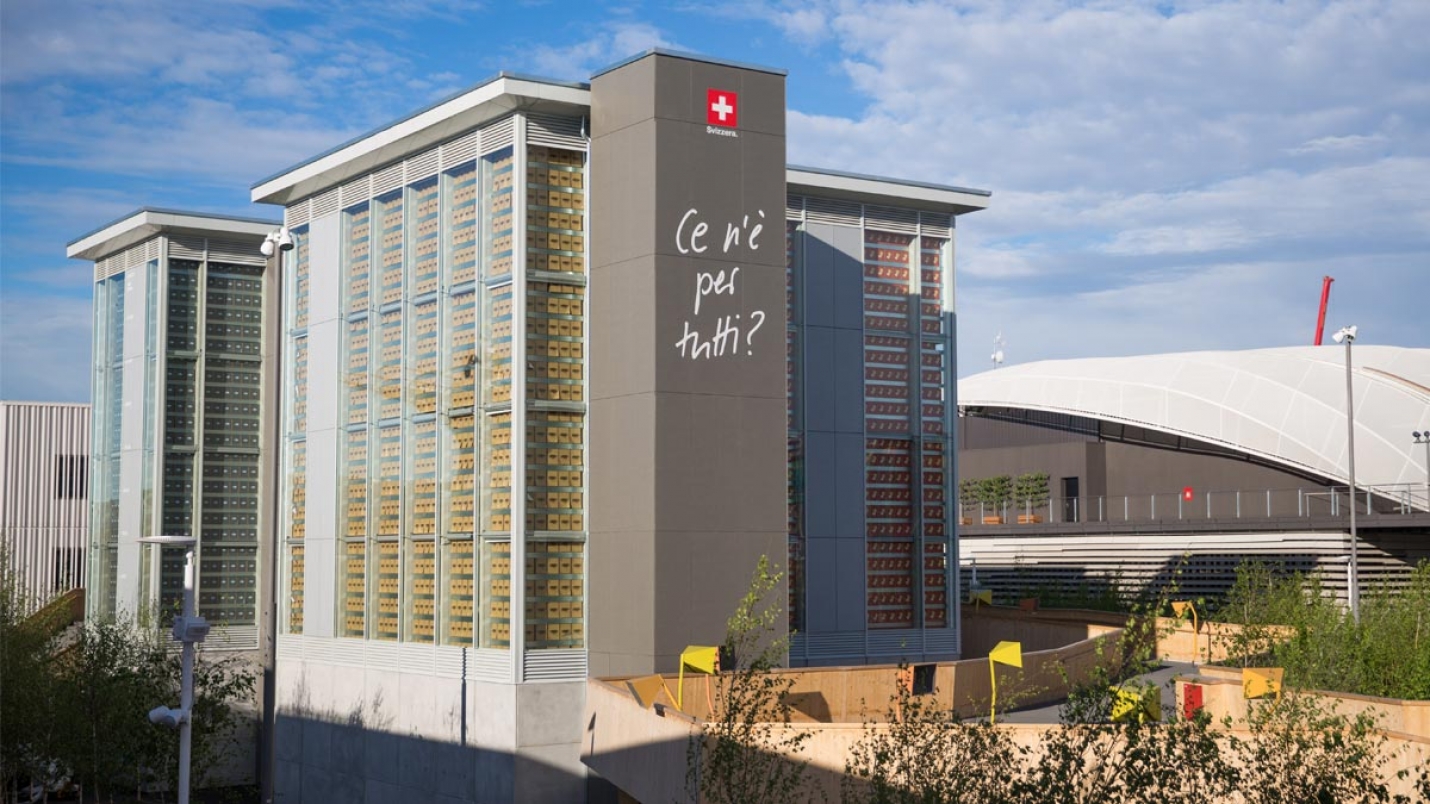 Another original idea behind the pavilion is its modularity. In fact, as that foods disappear from the silos, the level of the platform that supports them goes down, as a metaphor of resource consumption. On social networks everyone will be able to follow in real time the consumption of food. The platform is the place where you will find the thematic exhibition focused on food and nutrition in Switzerland.
With this concept, Switzerland appears like a responsible and supportive country.
The design
The Swiss pavilion covers a total area of 4443 square meters. The project was carried out by the study Netwerch GmbH (Brugg) following a competition in which 103 competitors had partecipated.

The goal
The pavilion is a funny way to communicate the concept a project of sharing and manage resources, as well as to make visitors think about their eating habits. The exhibition will also address the issue of equitable redistribution of resources and interdependencies in the food sector.
The different spaces
An elevated terrace allows access to the pavilion by the Decuman (one of the main avenues of the exposure) and leads to a courtyard where there are the silos of food. In this terrace visitors can take a ticket to access the towers of the elevators. It also provides access to a stage where concerts will take place, and where there are a restaurant, a shop and a VIP lounge area under the roof.

2) Inspiration
The silos remind the world of machines and technology, buildings with sloping roofs resemble the traditional Swiss villages.
3) Switzerland and the feeding in numbers
The total area of agricultural land in 2009 was 1,055,684 hectares, with an average size of 21.5 hectares for each farm.
2.053 billion francs: sales of organic products in Switzerland in 2013
4% of the active population works in agriculture
More than 15 kg of bread per person per year are thrown away as rubbish.