"Tomorrow I will be an educated woman"…
A simple phrase for our western society, but which reveals a devastating realty when pronounced by children at the Happy Chandara school near Phnom Penh in Cambodia.

Out of all children who receive an education throughout the world, just a third are girls. They are future mothers, responsible for the education of their children to whom, without education, they will be unable to provide solid foundations of knowledge and human values, with the risk of perpetuating the poverty and ignorance in which they themselves grew up. In Cambodia, 90% of intellectuals were killed during the genocide of the Khmer Rouge and half the population is younger than 15 years old. There are therefore not enough teachers to guarantee lessons in overcrowded classes. And less well off parents prefer to send their daughters to work rather than to school.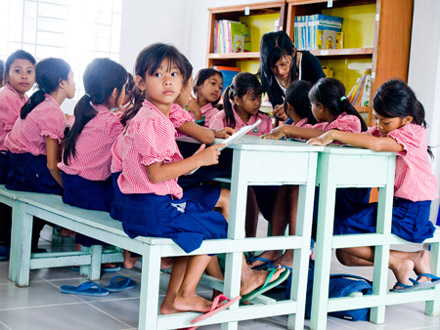 These disturbing facts led Tina Kieffer, journalist and editor of Marie Claire 2, to found the Toutes à l'école foundation in December 2005. Claire Chazal, a journalist with TF1 who became involved for similar reasons as explained in this video, has also made her contribution to the charity, becoming patron.
Thanks to her and financial support from partners such as Caroll, L'Oréal and Samsung and the indispensable collaboration of Cambodian women active in reconstructing their country, the pilot Happy Chandara school was born and at the end of 2006, 100 girls were able to attend their first day of school. Each year, thanks to donors, 100 other girls will be able to attend the courses, with costs of about €20,000 per year (the €5,000 prize for the winner of The Passion Project could give 25 more girls a chance to attend the Happy Chandara).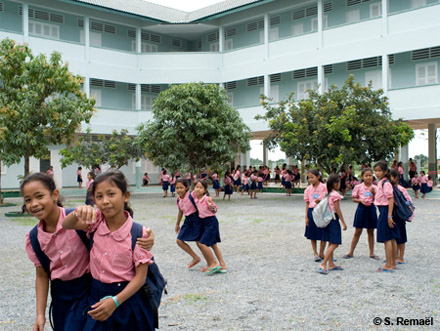 Happy Chandara's approach is not just pedagogic, but also medical (vaccinations, prevention, dental care…) and nutritional and includes education in hygiene to give the girls all they need to go on and become doctors, judges and engineers… or at least to guarantee them a remunerative job where they are respected.
To avoid all forms of absenteeism, the school gives the girls' parents a sack of rice every month as compensation for loss of income.
To support the Toutes à l'école charity, appointment on the Novoceram Facebook page. By becoming a fan and taking part in The Passion Project game, you can attribute your accumulated points to the La cuisine de Mercotte blog which supports this cause. If this blog wins, the €5000 will be donated to the Toutes à l'école charity!
For more information: