From the bathroom to the terrace, going by the entrance, the kitchen and bedrooms, the tiles can decorate with style all the floors in your house. It is however necessary to find the most suitable size of the tiles to enhance your home environment. The choice is delicate and it is essential to balance functionality and aesthetics, and to take into account the technical advantages of the different materials.
A great variety of tile sizes is available, from a square format from 20×20 cm to 120×120 cm and more, to a rectangular format from 10×60 cm to 120×180 cm. We cannot forget the hexagons that allow original laying patterns, although in recent years design trends lean towards large size tiles from 60×60 cm, particularly appreciated because they convey the room a certain lightness and a very contemporary style.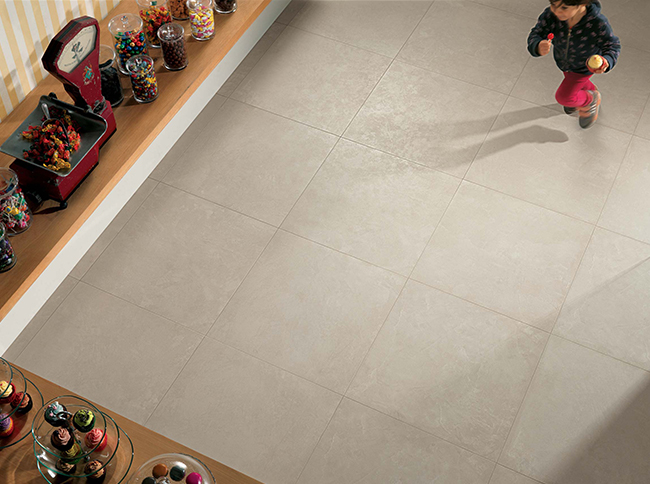 Tiles Zen 60×60 cm

Large size tiles, why not?
With their minimalist style and design, large size tiles are strongly impressive at first glance. Their joints are sparser compared to those of small tiles and they widen the space giving the impression of larger volumes. Moreover using joints reduced to 2-3 mm further increases this feeling.
Large size tiles colours are often sober (gray, anthracite, beige, black) however they offer some nice material effects thanks to their large surface that allows the structure and pattern to unfold at best: the cement effect in the format 75×75 cm of the collection Ciment for example, wood or stone effect can be adapted to any lifestyle, both inside and outside.
From a technical point of view, XXL tiles need a flawless installation. The use of a professional installation is strongly recommended to manouver the tiles (often very heavy) and for the preparation of the substrate (essential for a successful laying). From the point of view of the type of material, porcelain stoneware is the most suitable for large size tiles since it is more compact and solid, non-porous and also easier to preserve (for example in the kitchen).
Small or large size, it is a matter of taste!
Although it is a common belief that small tiles are more suitable for small rooms while large tiles would fit bigger rooms best, actually it is just a matter of taste and technical requirements.
Do you love modern and minimal settings? Large size tiles from 60×60 cm are perfect for you, whether your rooms are small or large. Pay attention to the cuts on sides because they can be more troublesome on larger formats.
If instead you are for a more classical style, you have no limits of choice, since both small and large sizes will fit seamlessly into your decor.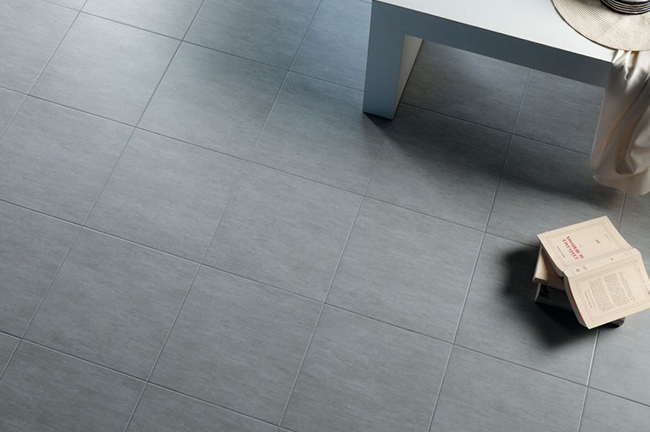 Tiles Look 30×30 cm


Tiles Azimut 30×30 cm
Novoceram, with its collection Azimut in 30×30 cm, offers a new vision of this format, considered rather classic and traditional, with a warm contemporary effect!


Photo : Architect Rémi Giffon – Tiles Iridium 20×20 cm


Tiles Dentelle 10×10 cm
A small square format 10×10 cm as Dentelle or 20×20 cm as the Iridium collection, gives a mosaic effect by vitamin colors, whereas a 45×45 cm format is an excellent balance between the big and the small size adapting to rooms of all sizes. Again it's all a matter of taste!

Tiles Geo staggered layout 30×60 com – 10×60 cm
Whatever the size of the tiles that you choose, it will affect your laying patterns. With rectangular tiles you may enjoy a greater freedom of choice: a staggered layout or an aligned laying pattern. 15×90 cm or 22.5×90 cm wooden effect tiles of our collection Noa for example, allow you to perfectly imitate a parquet with the addition of the technical properties of porcelain stoneware.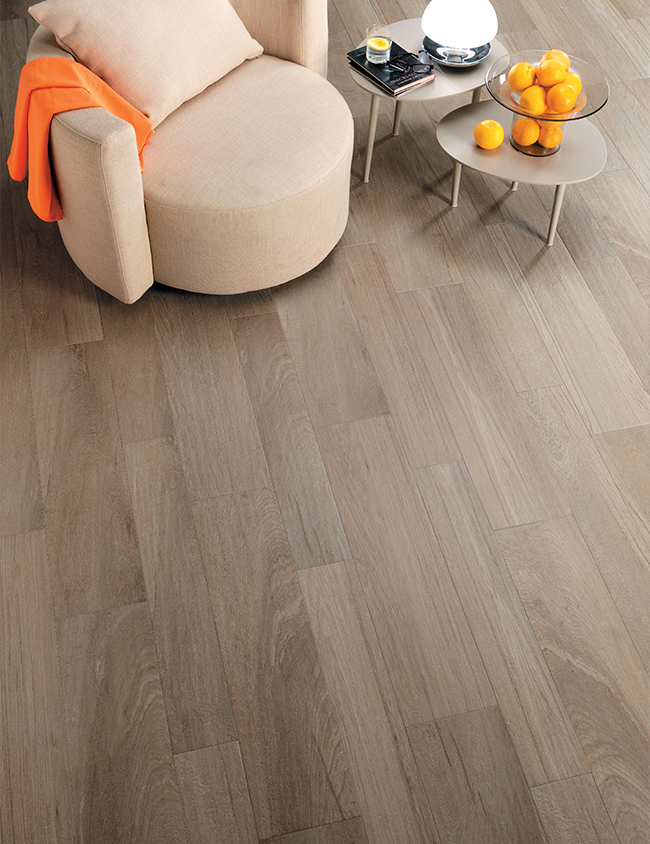 Tiles Noa 15×90 cm and 22,5×90 cm

Why do not mix sizes?
Why do not break the rules and do a modular laying pattern? The result, if the composition is well done, will be even more modern. The rectangular format 30×60 cm rectified is a perfect example. It can be combined with 60×60 cm and 10×60 cm sizes.


Tiles Cast 60×60 cm – 30×60 cm and Cast Structuré 60×60 cm – 30×60 cm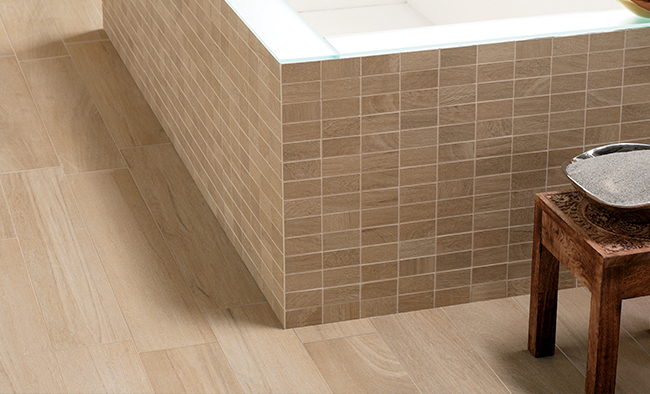 Tiles Noa 15×90 cm and Noa mosaic 45×45 cm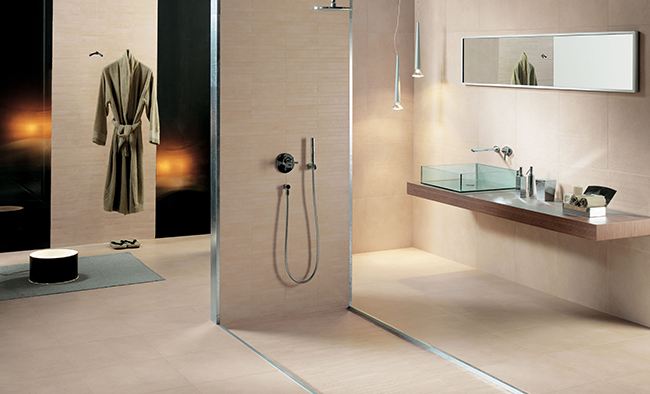 Tiles Espace 45×45 cm and Espace mosaic 45×45 cm
Mixing tiles sizes is a good idea to ensure the continuity of aesthetic spaces. For example, in bathrooms the shower can be covered with a mosaic floor and wall tiles can be laid in a large rectangular format.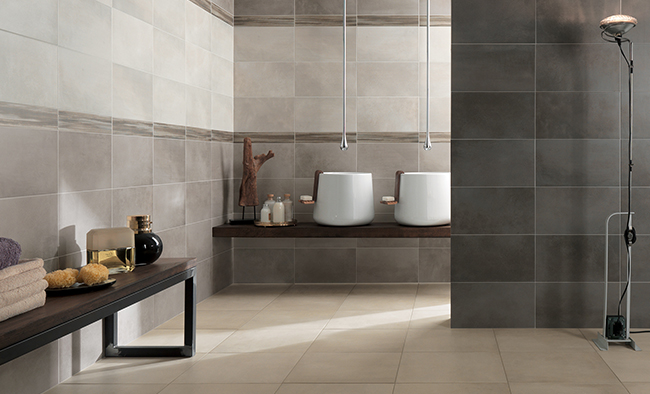 Tiles Azimut 25×45 cm – 45×45 cm and Listel 8×45 cm
That's it, have you already chosen the size of your tiles? Now nothing else remains but to lay them! The choice is up to you: diagonal or straight laying, with aligned joints or a staggered layout …