Which are the advantages of Ceramic Wood?
At Cersaie 2015, Novoceram launched Napami,a collection of Wood Effect Ceramic tiles. Until a few years ago, the ceramic "imitation" of wood was of a very poor quality; on the contrary, today it is almost impossible to distinguish a ceramic parquet floor from a natural wood one. But if they are so similar, why choose the ceramic imitation of the natural material rather than the real one? What are the advantages of ceramic compared to natural wood? Some are quite obvious while others are less evident yet nonetheless extremely important: let's go over them one by one.
1/ It is waterproof.
Porcelain stoneware has a water absorption level which is almost zero (maximum 0.5% under ISO 13006 and NF EN14411 Annexe G standards , but the real value is even lower). It is also labelled E3 according to UPEC, the highest level of water resistance).This means that ceramic wood can be used in any place in direct and constantcontact with water: kitchens, bathrooms,, as a cladding for shower areas,even in wellness centres and swimming-pools! Should the floor accidentally become wet (such as after leaving the windows open during a storm or if the washing-machine breaks down or our pet decides to make a lasting mark…), it won't be a problem!
2/ Strong resistance to wear and scratches.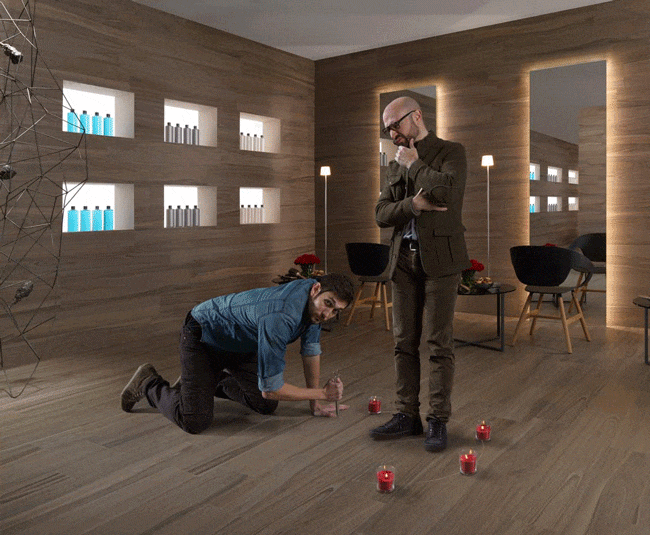 Unlike natural wood, which is a delicate material that tends to damage easily due to high footfall, shifting or dropping of objects,porcelain stoneware is one of the most resistant to wear and scratches, among the other floor covering materials. This aspect is extremely significative as wood effect porcelain tiles can be posed even in public and commercial venues with high footfall, where natural wood would be quickly damaged
3/ It won't get stained.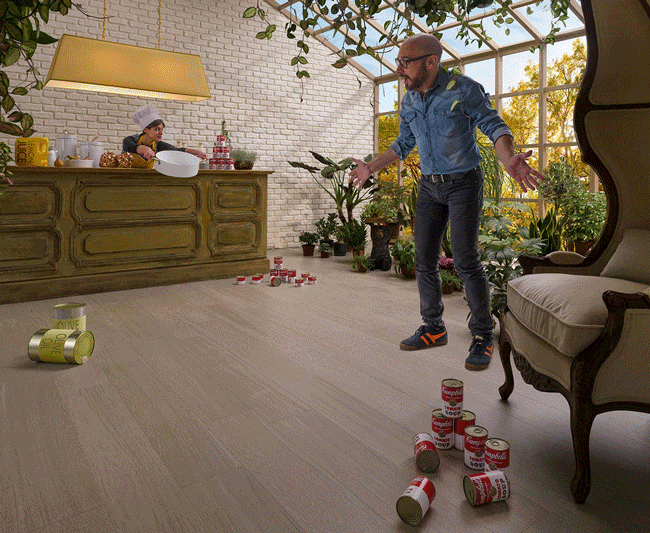 Porcelain Stoneware is vitrified and has low porosity, therefore it is resistant to attack from almost any chemicals. It is labelled C2, the highest level of chemical resistance according to Upec standards. Regardless of the type of wood effect ceramic, the stain remains only on the surface of the tiles and they can be removed easily even once they have completely dried up. No fear then to use wood floors (ceramic wood of course!) either in the kitchen or behind the cooker hob: any stain will be easily removed using just a wet sponge.
4/ It is heat-resistant.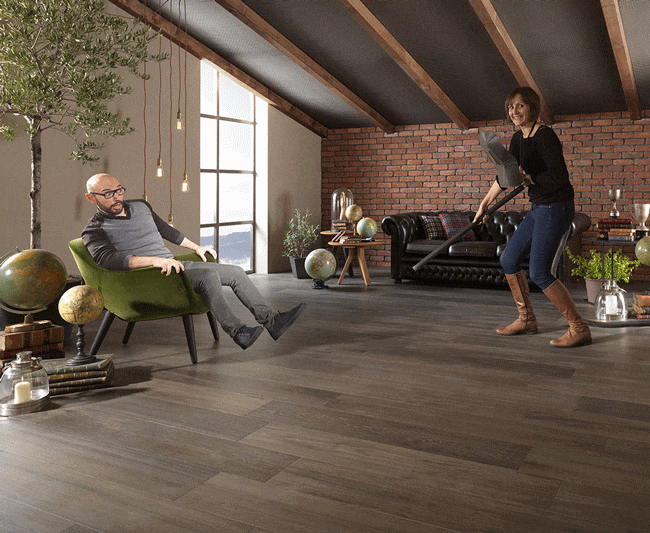 Ceramic Wood perfectly resists to flames, it is non–combustible, it is indeed classified A1F1 under NF EN 13501-1 standards. there is no risk of surface darkening due to the contact with hot objects as cigarette butts or burning embers; it will not release any gas or toxic substance following flames exposure.
5/It is frost, weather and UV resistant.
Ceramic wood is totally frost resistant and weather-proof: it can be used outdoors then! Just make sure that you have chosen the right product for your intended use in terms of thickness and surface finish. What's more, protracted exposure to the sun will not damage it, nor fade its colour or alter its surface..
6/ Resistant over time.
Porcelain Stoneware is inert and time-resistant it won't be damaged over time. If you make your choice according to the specific destination of use, the wear and tear due to footfall will be extremely low and usually indiscernible (we suggest you have a look at Upec recommendations). It's likely you will be fed up with your floor long before it would change somehow!
7/ It is immutable.
Like it or not, as all the other good quality porcelain floors, a ceramic parquet floor will look just the same even after many years: it will not get brighter or darker, it will not lose its colour or finish (so think carefully before taking your final decision…)!
8/ No need of other treatments!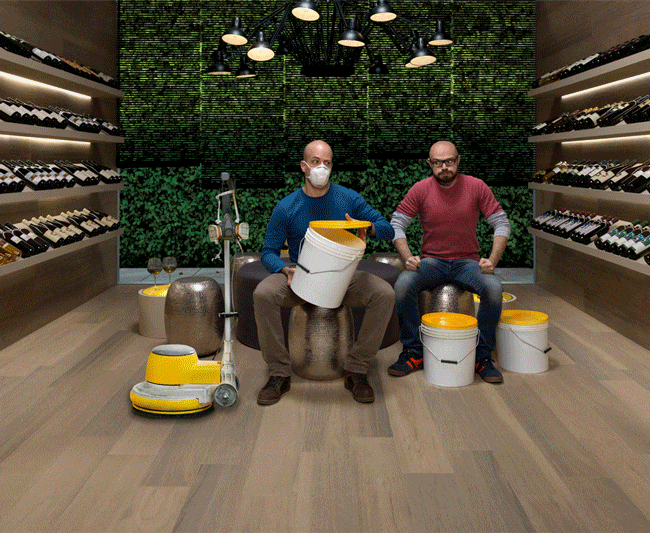 A wood effect porcelain stoneware floor does not need any varnish, wax, oil. It doesn't need polishing or other treatments after installation! This ensures the absence of solvents and other chemicals that are contained in the varnish, which are usually spread onto natural wood floors. Ceramic Wood by Novoceram is labelled A+, that means it is completely inert and won't rejet any chemicals. At the same time, you will have the guarantee on the final colour and look of the floor, which will be exactly the same you chose in the showroom.
9/ Aesthetic look is under control.
This is a less evident advantage: picking a natural wood doesn't mean you will receive exactly that particular wood chosen in the showroom; every tree is different, every plank is different. If, on one hand, this makes the natural material even more "natural", on the other hand, you can lose control on the final result of your floor: the colour may be different, a brighter or darker shade, knots more or less frequent, bigger or smaller and so on..
Thanks to actual production technology, ceramic wood has the same chromatic versatility of natural wood (Napami has more than sixty different strips in the range), but each of them is always identical to the others: balanced and coerent with the rest of the range thanks to a long process of fine-tuning of the final look of the floor.
When you choose a wood effect ceramic floor, you know exactly what you get and what you'll receive, that is you have the complete control over the final aesthetic look of your floor.
10/ It can reproduce rare and exclusive wood essences!
This is another strength of ceramic wood, less evident but extremely important: some natural wood essences are now extremely rare or sold at exorbitant prices: as far as wood effect porcelain stoneware is concerned, only a small portion of the final price depends on the buying cost of the source wood. That's because only a few dozen metres of natural wood planks are enough to identify the grains and characteristics of the wood and incorporate those patterns into wood effect tiles, with costs quickly amortized by sales volume.
11/ It can reproduce any type of surface treatment, even rare or difficult ones.
Porcelain stoneware can reproduce any type of wood and any effect: the old natural wood with the typical patina of passing time, natural wood treated with varnish, recycled wood with stains, cracks and dents, even wood that has been charred by fire…Every single aesthetic effect is durable over time and doesn't compromise the technical features and performances of the floor.
12/ Eco-friendly!
"No trees were cut to produce your floor".It's not 100% true as the raw material for the creation of the prototype is actually natural wood, but it requires just a small amount!
13/ Easy to clean.
Regardless of the type of wood and finish reproduced, for the ordinary cleaning of ceramic surfaces you just need some clean hot water and a cloth..
14/ Suitable for under-floor heating systems.
Porcelain Stoneware is the most suitable material to pave under-floor heating system surfaces. Its thermal conductibility guarantees excellent performance of the installation, far better than the other insulating materials which create a sort of barrier to the passage of heat.
15/ It can be cleaned using aggressive detergents.
The ordinary cleaning of porcelain stoneware floors simply requires some water but it may be necessary to clean in a more aggressive way your floor to remove less common stains, such as varnish or cement or to completely sanitize an area (for example stained by vomit).
Do not worry about using acid or alkaline based detergents on your chestnut wood-effect porcelain floor with matte finish: there will be no trace of dirt after cleaning and the floor will not be damaged or altered (depending on the type of dirt, we suggest you read this article with some recommendations on the cleaning of ceramic tiles)
16/ Hygienic
This list ofCeramic Wood advantages is already quite long, but it would be incomplete if we wouldn't mention another pivotal advantage: Ceramic Wood is ahygienic material which does not favour the development of bacteria. Rot–proof, impermeable, non–absorbent, insulating and easy to clean and disinfect, you can install it in public places such as schools, restaurants etc…