Due to particular conditions, as the presence of humidity and water and the need for a surface which can be easily and in-depth cleaned, the materials used to tile a bathroom must combine an attractive appearance with suitable technical characteristics.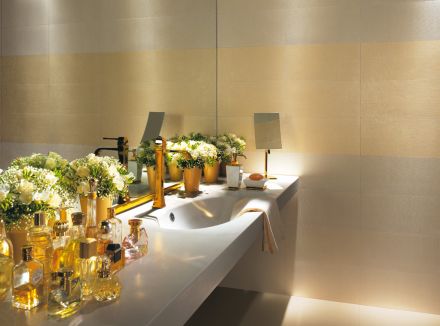 This is why it is very dangerous to use materials such as wood, plaster or wallpaper for floors and walls of bathrooms and there is a tendency to prefer ceramic or natural stone tiles, resulting in the case of stone in very high costs and in the case of ceramics in a limited choice.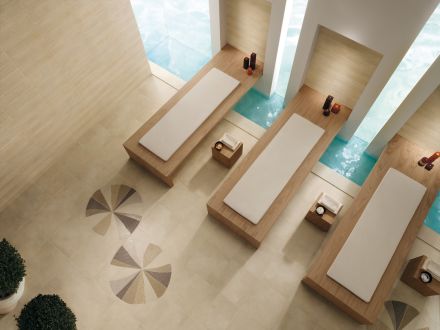 Today, however, these limits can easily be overcome by choosing porcelain stoneware tiles which perfectly reproduce all types of stone, wood, fabric, leather, wallpaper, concrete, plaster etc.
In particular, Novoceram offers series such as Fil de Coco, inspired by a fabric; Origine, a highly realistic interpretation of wood, both in appearance and in three-dimensional texture; Chamade, a discreet leather; Voyage, reproducing a waxed plaster surface, Tadelakt typical of Morocco and Fossil, a stone with a wealth of detail. Other series such as Noname and Samsara go beyond imitation and reinterpretation to literally invent new surfaces, never seen before but at the same time apparently natural.
There is a widespread wrong convinction that the tiles' size must be proportional to the size of the surface to be tiled and that in rooms which tend to be small such as bathrooms, large tiles cannot therefore been used. Matter of fact, modern surfaces are enhanced to the full by the absence of interruptions caused by joints. In small rooms in particular, using large tiles (even as large as 60 x 60) and minimal joints (1-2 mm) of the same colour of the tiles will give the impression of a single uninterrupted surface with a distinctive and fascinating appearance, far from classical tiles. Finally, you just need to follow a few simple rules to choose the most suitable joints for the bathroom tiling without ruining the elegant effect of the porcelain stoneware.
Patterns
The desire to use decorative strips and inserts often clashes with the very high price of these tiles which, sold per piece, may cost double the price per square metre of ordinary floor or wall tiles. But once again, our advice is not to limit yourself excessively (although without exaggerating). Bathroom tiles are an interior design element which will last for many, many years and you will therefore have a very long time to regret not having included a decorative element or strip which you liked in order to save an amount of money that, considering the total investment for a new house or renovation, will seem trifling.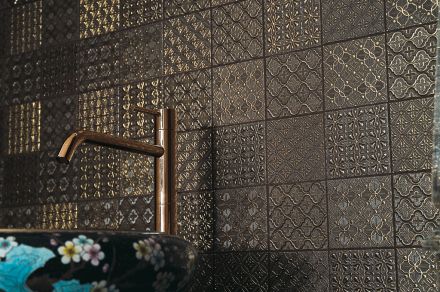 For further information or a free catalogue of our products, don't hesitate to contact us.