With spring and summer approaching, it's time to bring out the deck chairs and parasols to enjoy our terraces. It's the perfect time to check your garden and to possibly renovate your terrace tiles so that it is ready for the warm season. But, which type of surfacing to choose: wood or tiles for terrace? It is not easy to make the right choice between wood decking and ceramic tiling; we therefore take a closer look at the two options.
The aesthetic appeal: wood or tiles for my terrace?
Today, it has become extremely difficult to distinguish natural wood from wood look tiles. Advances in technology have made it possible to reproduce wood perfectly without forgetting its details such as veins, knots, cracks or even its bumps. Ceramic parquet therefore shows the variations of wood even down to its imperfections and is available in many shades which recall the naturalness of wood, going from light-coloured tiles to darker varieties.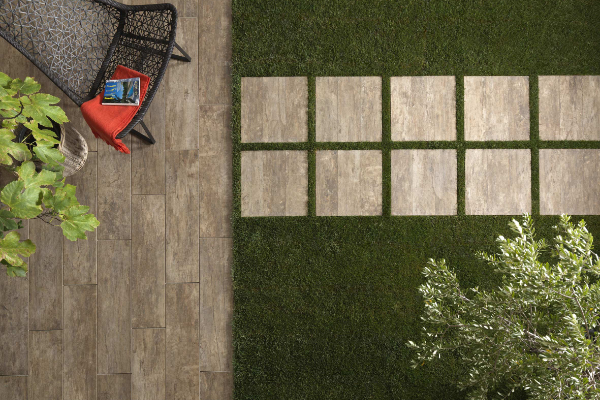 In addition, wood effect tiles can now replicate varieties considered rare and exclusive that are not usually used for floor and wall coverings because of their higher prices. The aesthetic possibilities of wooden effect tiles for terrace are therefore greater in quantity than for natural wood.
In the case of natural wood, each plank is different and has aesthetic characteristics that may vary depending on the selected trees. As such, the final result may be somewhat different: your parquet may have a different color and may contain more or less knots than the displayed product chosen in the store. However, with wood imitative tiles, it is important to note that the aesthetic aspect is fully mastered. Indeed, some collections present more than 60 different patterns, but each will always be identical. This allows you to have total control over the aesthetic aspect.
Easy maintenance and cleaning: do you choose a terrace with wood or tiles?
It is well known that wood requires a very specific and particular treatment in order to keep it as good as new. It is often required to prepare this material by sanding it before being able to treat it, and then varnish it. A vitrification process may also be necessary. For regular maintenance, wood also needs oil or wax to nourish and strengthen it so that it preserves its natural appearance. For an outdoor installation, wood must absolutely be covered with a saturator which protects it from bad weather and UV rays. In this way, the greying of wood over time is limited.
On the other hand, wood look tiles for your terrace do not require any particular treatment. They do not require any varnish or wax. They can be cleaned simply and easily with clear hot water and a mop, and to finish their cleaning they just need to be wiped down well. The technical properties of ceramic tiles allow stains to remain on the surface, so removing them is a piece of cake! Ceramic tiles are also hygienic and do not contribute to the development of bacteria, thanks to their rot-proof nature.
Wood or tiles for a terrace against humidity?
Natural wood is a living material which reacts differently to water and humidity levels. To limit the sensitivity of wood to water, it is advisable to waterproof it. You only have to apply a waterproofing product to prevent water or other liquids from penetrating the wood.
Wood effect tiles, on the other hand, have excellent resistance to humidity and damp because they hardly absorb any water. Their aspect remains intact even if they are exposed to humidity. This quality allows them to be installed in more damp rooms that are not necessarily suitable for other less waterproof materials. As a result, it is possible to install wood effect tiles on a terrace without any problem.
Terrace with wood or tiles: which one is more resistant to bad weather?
Faced with difficult weather conditions, natural wood must be treated to protect it from climatic aggressions. Even if some varieties, such as exotic woods, are naturally more resistant, it is still essential to apply some finishing products to ensure this protection. For example, wood must be covered with a saturator which protects it from bad weather and UV.
Unlike natural wood, the aesthetic appearance of wood effect tiles does not change under sunlight and does not fade due to ultraviolet rays. Additionally, they are perfectly resistant to frost, adverse weather conditions and temperature changes. They can therefore be safely installed on an outdoor terrace. In other words, they do not deteriorate over time.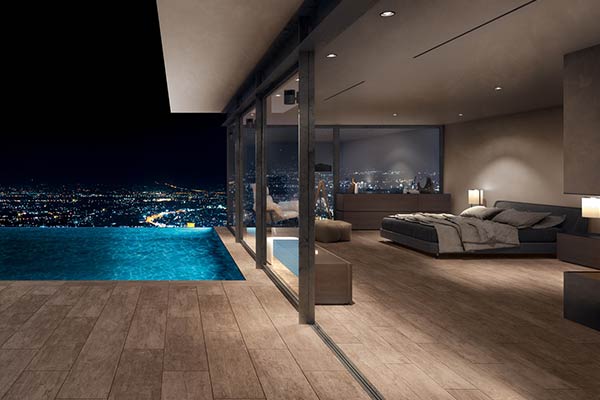 How do wood or tiles for terrace react to wear and tear?
The passage of time often leaves marks on materials and in some cases, changes their original aesthetic appearance. However, wood effect ceramic tiles are resistant to the passage of time and their appearance remains virtually unchanged. Wear and tear as well as scratches do not degrade it, whereas natural wood is a softer material whose characteristics may change. As such, it is less resistant to heavy traffic, movements or falling objects.
In conclusion, both materials can be laid on an exterior terrace, especially since they are identical from an aesthetic point of view, but wooden effect tiles have advantages that cannot be overlooked for an outdoor terrace, such as their resistance to adverse weather conditions, humidity, wear and tear, and their easy and quick maintenance. Now, it is time to move on to the <a href=""laying of wood effect tiles…