We have prepared a complete file concerning the choice of floor tiles for every room in your house, in order to help you in your decision. In the following articles on our blog you will find our professional advice on this topic:
Before choosing the tiles for my kitchen, you should ask yourself the right questions:
Porcelain ceramic tiles
UPEC certification

contemporary style
relaxed style
country style
minimalist style

neutral colours
bright colours
A. What tile typology?
A.a. Porcelain tiles
In kitchens, colored in body or glazed stoneware high quality tiles are designed to present the most effective and appropriate technical properties to facilitate maintenance and resistance to stains, acids and bases. A single pass of clean cloth moistened with warm water frequently renewed is enough to preserve the aesthetic properties and technical performances of your tiles. Remember also that stains are the easier to clean the sooner they are removed.
A. b. UPEC certification
From a technical point of view, it is advisable to cover kitchen floorings with NF certified tiles whose UPEC classification, checked by CSTB, exceeds U2s P3 E2 C2. This way, the floor can resist the ravages of time (U) as well as punching due to pieces of furniture (P) and it becomes not only water resistant (E) but also acids and bases resistant (C). We'll give more explanations about the UPEC classification on our blog.

B. Tile style
To give you some ideas for choosing the tile style, we offer a kitchen photo selection that may inspire you.
B. a. Contemporary style
Let's begin with a very contemporary style, as shown in the photo below with the Elixir series presented in Fusain colors in 60×60 cm format. The combination of black tiles with the white table brings a lot of chic and elegance in this room, illuminated by a large window through which sunlight reflects on the table and shows the pronounced structure of Elixir.


Elixir Fusain 60×60 cm
B. b. Relaxed style
Then here's a kitchen in a more casual style, tiled with the Fossil series, rich in details inspired by natural stones. The scullery is enhanced by a mosaic of strips of different lengths, applied in a staggered fashion. Note the interesting idea of the central island completely covered with 30×30 tiles of the same color as the ground.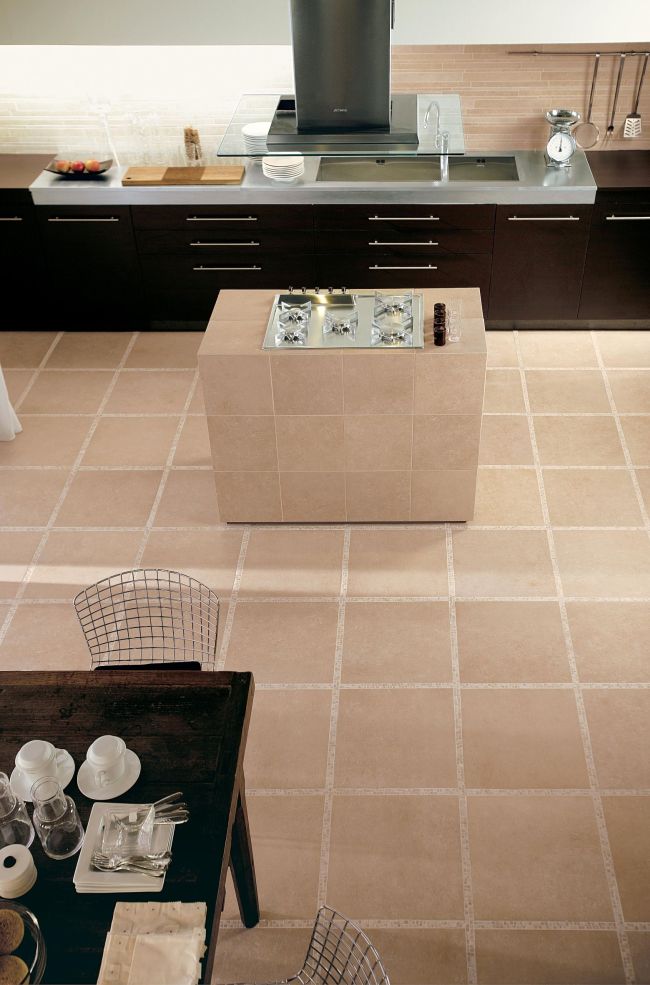 Fossil Chinon 45×45 cm
B. c. Country style
For your family home in the countryside, the Icône series lends perfectly to the atmosphere of ancient stones worn by time. In Ivory, Gray and Sand, Icon is the synthesis of a research that led to explore dozens of stones to select four that best reflect this charming essence without any rustic overtones, thanks to its large 60×60 cm. In blue colors, icon is inspired by the true blue stones in the North of France.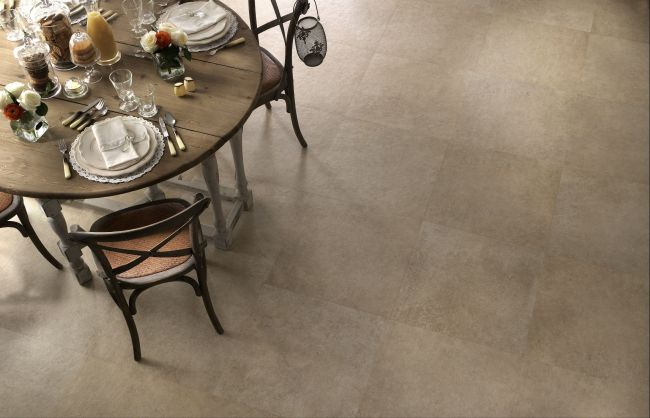 Icône Ivoire 60×60 cm
B. d. Minimalist style
The minimalist style develops on two inspirations: minimal stones on the one hand and cement or resin on the other.
In the first style, the Moon series is a perfect solution to achieve a contemporary easygoing kitchen. Characterized by a matte surface, Moon is rich in micro-details and is characterized by elegance at first glance.


Moon Oxygène 45×45 cm
In the second style, the collection Novoceram Vertige, inspired by a colored resin, will bring a fresh and bright touch to your kitchen, in modern, warm colors that combine perfectly also with furnishings in bright colors, such as the chairs and dishes in the picture below.
C. Tile colour
C. a. Neutral colors
Usually kitchen floor tiles are in more or less dark neutral tones, as for instance beige or gray, in order not to limit the choice of kitchen furnishings and accessories.
Here is a selection of collections with the widest choice of colors.
To begin with, the Ciment series, colored porcelain stoneware with a range of 6 soft contemporary colors: Ciment Gris, Ciment Chrome, Ciment Cendre, Ciment Ivoire, Ciment Cotto and Cement Métal.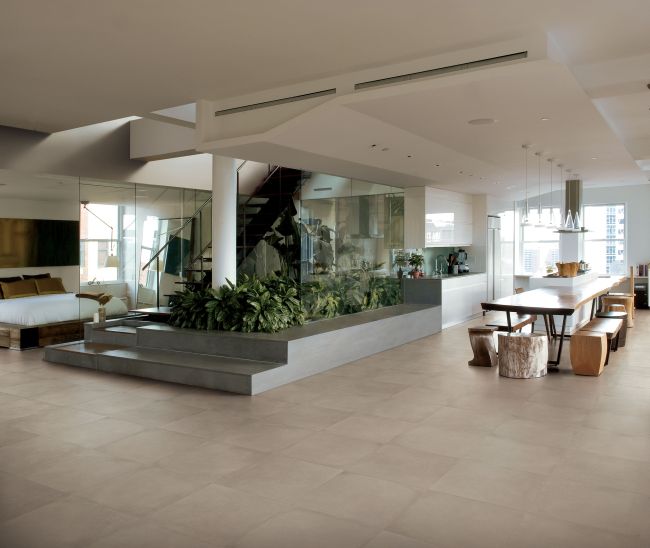 Ciment Gris
The Samsara series also offers a palette of neutral and interesting colors: Samsara Opale, Samsara Ivoire, Samsara Perle, Samsara Plomb and Samsara Ardoise.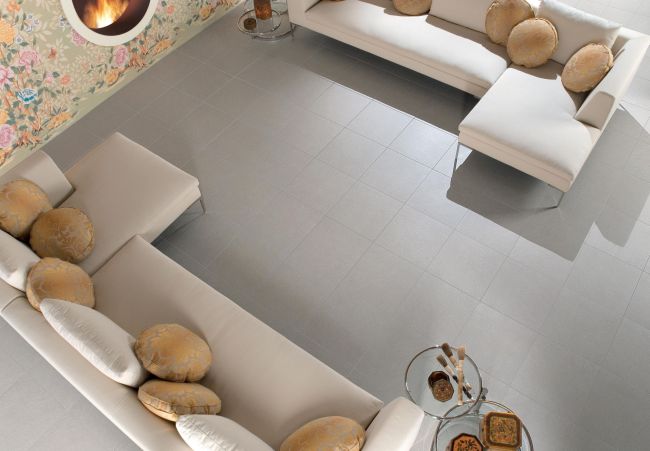 Samsara Perle
Finally, the six colors of Noname series will also give you ideas: Pureté, Sobriété, Douceur, Intimité, Clarté and Elégance.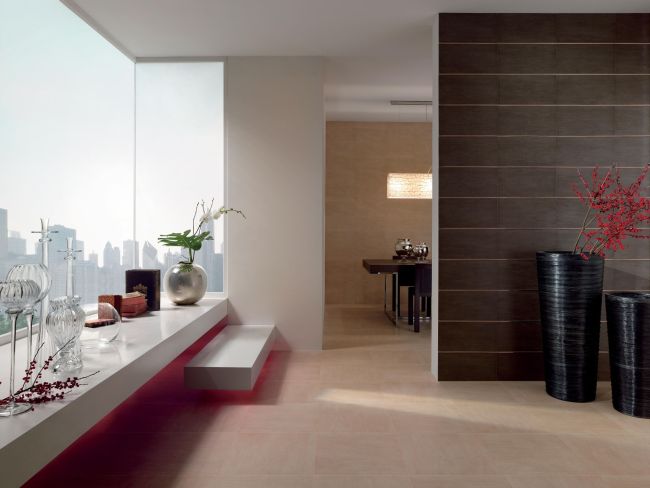 C. b. Bright colors
Usually more bright colours represent a common choice for wall tile. The colours of the Iridium series below are a perfect example.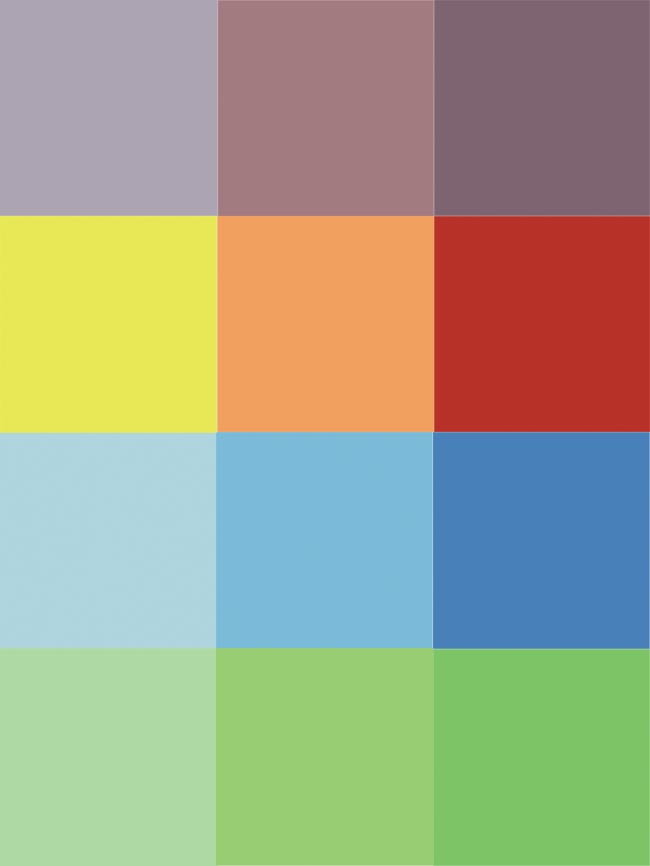 D. Tile format and layout plan
The choice of tile size is important in that it influences the perception of space dimension. In small rooms, on the one hand, 45×45 tile format contributes in making rooms appear wider that they actually are. On the other hand 30×30 or 35×35 formats increase the lattice effect and the room seems to be smaller. But you can also opt for "plank" formats, with ceramic tile flooring equivalent in size to parquet staves with 15×90 cm, 22.5×90 cm or 45×90 cm formats. For a true parquet-effect tiled, the 3 formats can even be combined in random poses. For 90 cm sizes, we recommend a pose shifted by no more than 22 cm, as shown in the diagram below.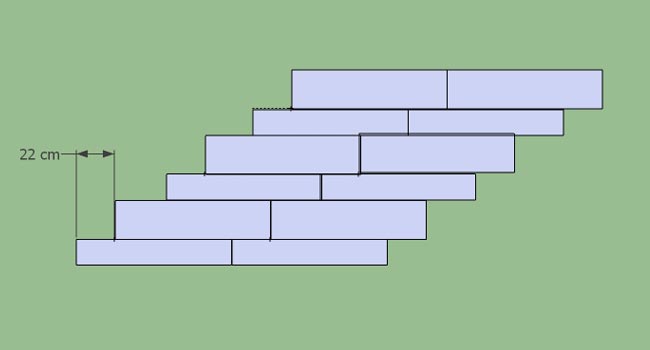 Example layout pattern combined with 15×90 and 22.5×90 cm formats.
The wooden-effect tiles exist nowadayseven in 30×60 cm size. In this case, we recommend a pose shifted by no more than 20 cm. An alternative solution for 30×60 cm format tiles is to shift them on the short side. Here you are provided with a picture of the Noa seriesas an example of this pattern layout. This way, your kitchen will be one of the most original.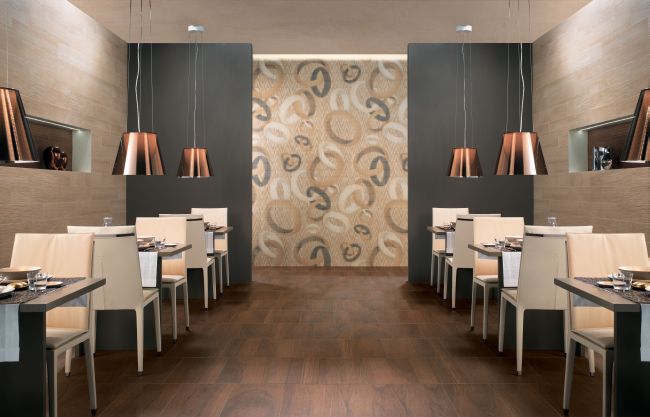 Noa Bruni 30×60 cm
Finally, many choices are possible depending on the character you want to give your kitchen. Be inspired!