The colour of tiles plays an essential role in enhancing our spaces and creating their decorative style. Nowadays, light-coloured tiles have become a must in our interiors and have everything to offer. They add radiance and lightness to interiors and create a different and unique atmosphere depending on the decoration it complements. What shades of light ceramic tiles should you choose for your spaces and how can you integrate tiles with light colours into your decor? Let's take a closer look with a few tips…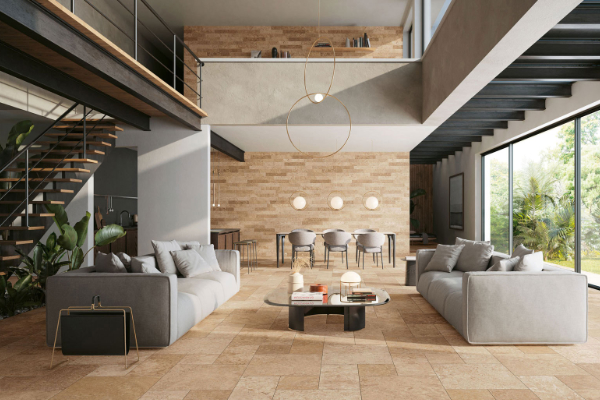 Light tiles: what colours and finishes are available?
Light-coloured tiles have a decorative quality that is not to be underestimated. Not only do they visually enlarge a room, but they also enhance the natural light in the environment with their delicate reflections.
Novoceram's range of light ceramic tiles comes in a variety of colours. Each of them allows you to define a unique style and let your creativity express itself in your spaces so that they reflect your personality. From white to light grey, ivory and beige, all of them are ready to enhance your interior or outdoor environment with their warm or cool shades.
Light tiles also provide a variety of effects and reproduce natural materials which, in addition to the colours, reinforce the desired ambience and decoration of your space. For example, you can opt for wood look tiles or stone effect tiles to bring a touch of authentic and elegant nature. If you prefer a more urban and relaxed style, concrete effect tiles are for you! The subtle reflections of light-coloured tiles with a concrete effect create a stylish and sophisticated space.
The advantage of modern light-coloured tiles is that they complement all styles and can even be used to create a unique lighting effect. Tiles with light colours can be used on the floor or walls to create rich contrasts when combined with darker tiles. They can also be combined with patterned tiles, which can serve both as a decorative and practical tool for structuring and framing interior spaces. These more dynamic combinations are the ideal solution for an original space full of personality!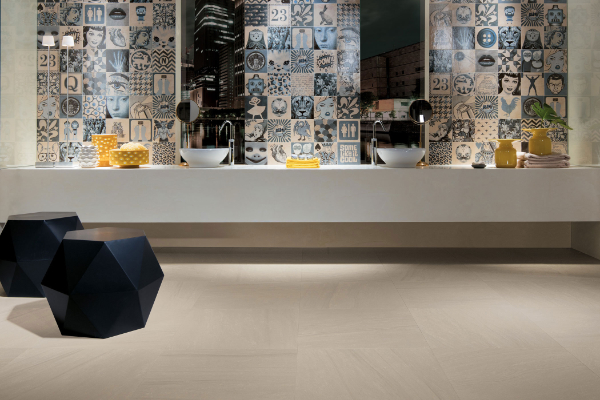 Light ceramic tiles: white for a bright interior design
White coloured tiles are a classic in interior design and their timelessness makes them a favourite. Their main advantage is that they do not overpower the space and brighten it up instantly.
To avoid an all-over look that can sometimes seem a little bland, it is advisable to combine white tiles with warm decorative elements using natural materials for a cosy and welcoming atmosphere. For example, the clean and soothing nature of white tiles makes them perfect for combination with wood effect tiles, and together they create a wonderful, light Scandinavian décor. It is also possible to turn to other raw and modern materials, such as metal for a contemporary feel.
Light-coloured tiles: ivory for a clean look
Ivory is also a modern light tile. Less intense than white, ivory tiles add a certain charm to a room and warm up the atmosphere, whether on the walls or the floor.
The clarity and subtlety of light tiles in ivory colour are two of the fundamental characteristics of these tiles, so they can easily be combined with other tones, whether subdued or more colourful, to create a very chic atmosphere. If you want to add a more artistic touch, ivory tiles can also be decorated with geometric or classic patterns for a more imaginative look. They then become a magnificent decorative surface that transforms spaces in the blink of an eye while maintaining the calmness of its colour!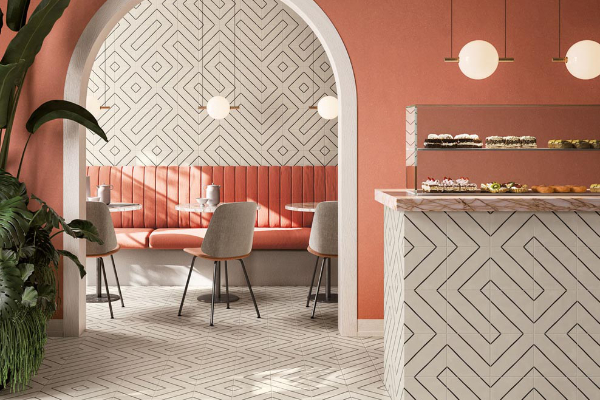 Tiles with light colours and their shades of grey for a contemporary atmosphere
Including different shades of grey make a statement, and this classic yet stylish colour has long been a part of the light tile range. Light grey tiles are a wise option when unsure about tile choice. Their ability to blend in with all decorative styles is, of course, their greatest strength. They set the tone and identity of the environment in which they are laid and add depth and charm. The resulting atmosphere is both soothing and modern.
Depending on the effect of the light grey tile chosen, the space will take on a different, but contemporary look. A stone effect tile, for example, reflects the richness, authenticity and charm of this natural material, while a concrete effect transforms the space and gives it an extraordinary design appearance.
Light tiles: warmth with beige
Another colour of light ceramic tiles is beige, with its warmer and brighter shades. Its incomparably delicate shades range from ecru to honey to pinkish tones. Thanks to this wide variety of colours, light beige tiles can be used to create warm and cosy atmospheres, as well as more modern and contemporary decorations.
The soft colours of beige tiles, sometimes neutral, can be perfectly combined with other dark colours such as taupe, or with lighter tones such as white. The aesthetic result is always a success, and the creative possibilities of tiles with light colours will charm many…
Whether your decoration is contemporary, industrial, rustic or Scandinavian, tiles with light colours are the ideal solution to decorate your favourite places and it is time to enhance them with light-coloured tiles from Novoceram. All you have to do is choose the colour of light tiles that suits you best and enjoy your spaces flooded with light!