The evolution of trends in interior design is knocking down walls and architects have therefore been favouring open spaces for several years now. This trend to open up interiors has invited new ways of marking out spaces. Indeed, many people choose nowadays to divide rooms by using various types of flooring. When renovating or building your house, you cannot make a choice between tiles and hardwood… No need to choose then when the two materials complement each other so well. However, let's take the time to understand how the different surfaces and colours of parquet and tiles may interact with each other and with the other elements that create the decoration. Here are some tips…
Wood and tile floor combination: a beautiful solution for structuring spaces
The absence of partitions in interior design trends leads to a rethink of how open spaces can be organised with flooring. Floors certainly play an important role in the overall style of the home. Given the countless variations of styles, textures and colours of tiles, it becomes possible to give a specific personality to different rooms.
A first idea of use aims at dividing rooms smoothly. Transitions hold a strong decorative power thanks to wood and tile floor combinations, which link the two spaces and give life to an impeccable finish. For example, this may be an excellent solution for separating an open-plan kitchen from a living room or dining room or for separating a bathroom from a bedroom. Of course, the possibilities are not limited to interior separations, but also extend between the interior and exterior to harmonise the whole house and its surrounds. Without giving up space, this association gives personality to rooms by visually highlighting them.
Then, a tiles and wood floor combination can also work within the same space. Kitchens may appear as ideal places for an effective combination of these two materials. In terms of layout, tiles can be laid near strategic areas like sinks or hobs in order to protect the cooking area, while parquet complements it in a contrasting or harmonious way depending on the products you choose.
Finally, decoration is another reason to mix tiles and wood flooring. Beyond this effective association, its decorative potential is undeniable thanks to the blend of warm wood and fresh tiles. Options are infinite and may give rise to striking creations or more simple and interesting ones.
As far as laying is concerned, both coatings must lay at the same level thanks to the use of transition strips, for example. Another possibility may be to add an undercoat under one of the two materials after observing their difference in thickness. Nevertheless, it is possible to choose wood look floor tiles so that they have the same thickness as the tiles to which they are combined.
Which tile and wood floor combination should I choose?
Combining tiles and wood flooring requires special attention to make the right choice of colour and texture so that it reflects your style. It is possible to play with contrasting shapes and colours or, on the contrary, to opt for complementary materials.
In the first case, hexagonal tiles, for example, offer an original and unusual optical illusion! It enables to create beautiful cuts so that the tiles and wood floor combination is both geometric and dynamic. If you want to create a contrasting effect thanks to a deconstructed floor that looks like a giant mosaic, ceramic cement tiles, whether coloured, patterned or white, bring obviously some character. Furthermore, their small size allows all fantasies.
For the more discreet among you, mixing tile and wood flooring can take the look of a simple frieze tile border to separate spaces in a stylish and delicate way. If you want to break the monotony of a room gently, the wood and tile floor combination works wonders. One of the best ideas for a modern style? Use marble effect tiles or light tiles to create a tile carpet to underline the presence of a particular element, such as the fireplace in the living room, the bathtub or the shower in the bathroom, or the kitchen island.
For a purely natural atmosphere, why not mix natural wood and stone look tiles? The comfort of natural parquet, such as oak, goes elegantly together with the noble identity of ceramic stone. The two materials become one to pay a true tribute to nature and coat any room with character and style.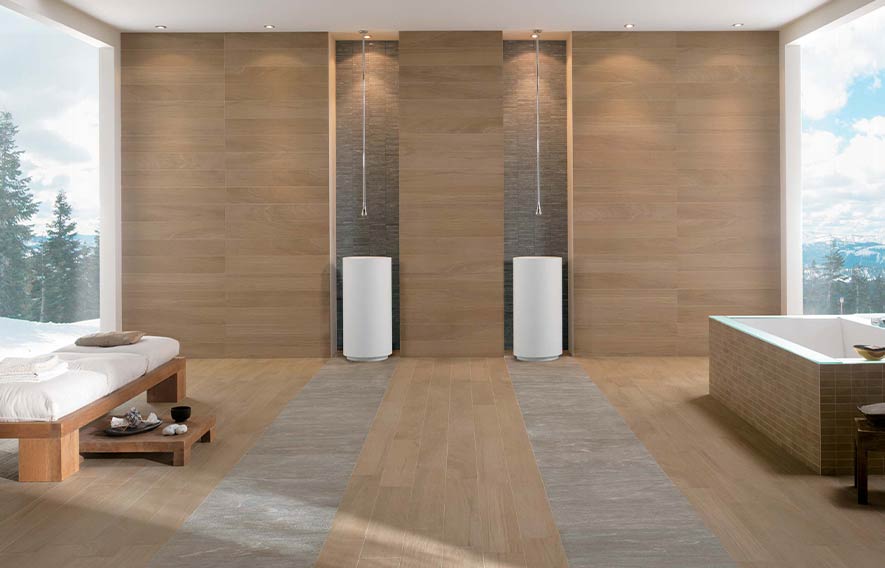 And what about walls in tiles and wood flooring?
For a harmonious interior decoration, you should not forget the choice of wall coverings so that they match the room flooring. If you prefer the idea of combining floors and walls, you could mix wood and tiles on these two surfaces!
This possibility to lay, for example, tiles on walls and wood on floors suits every room, from bedrooms to living rooms and kitchens. Obviously, it is recommended to know how to treat your parquet according to its use. Another solution can be to choose wood look tiles to benefit from all the advantages of ceramic.
This way of mixing tile and wood flooring creates a customised look and enables, as a destructured floor, to isolate some elements in order to highlight them. For example, our bathrooms may become the perfect place where beauty and durability unite. Indeed, wall tiles in porcelain stoneware may be laid behind the bathtub or on the shower walls to structure the space.
At the same time, tiles bring a surprising touch to the room. According to your style, you are free to opt for original ceramic cement tiles to add colour, ceramic wallpaper for a strong decorative effect or concrete look tiles for an industrial style. And why not invert by laying wood look wall tiles and tiles on floor… Let's say all ideas are possible in your home… so give free reign to your imagination!