At the center of a delicate explosion of soft and luminous colors, blossoms "Pastel", a genuine treasure chest of sweetness in which our character-filled 2020 new collections will be unveiled during the CERSAIE, the International Ceramics Exhibition for the Architecture and Bathroom Furnishing in Bologna.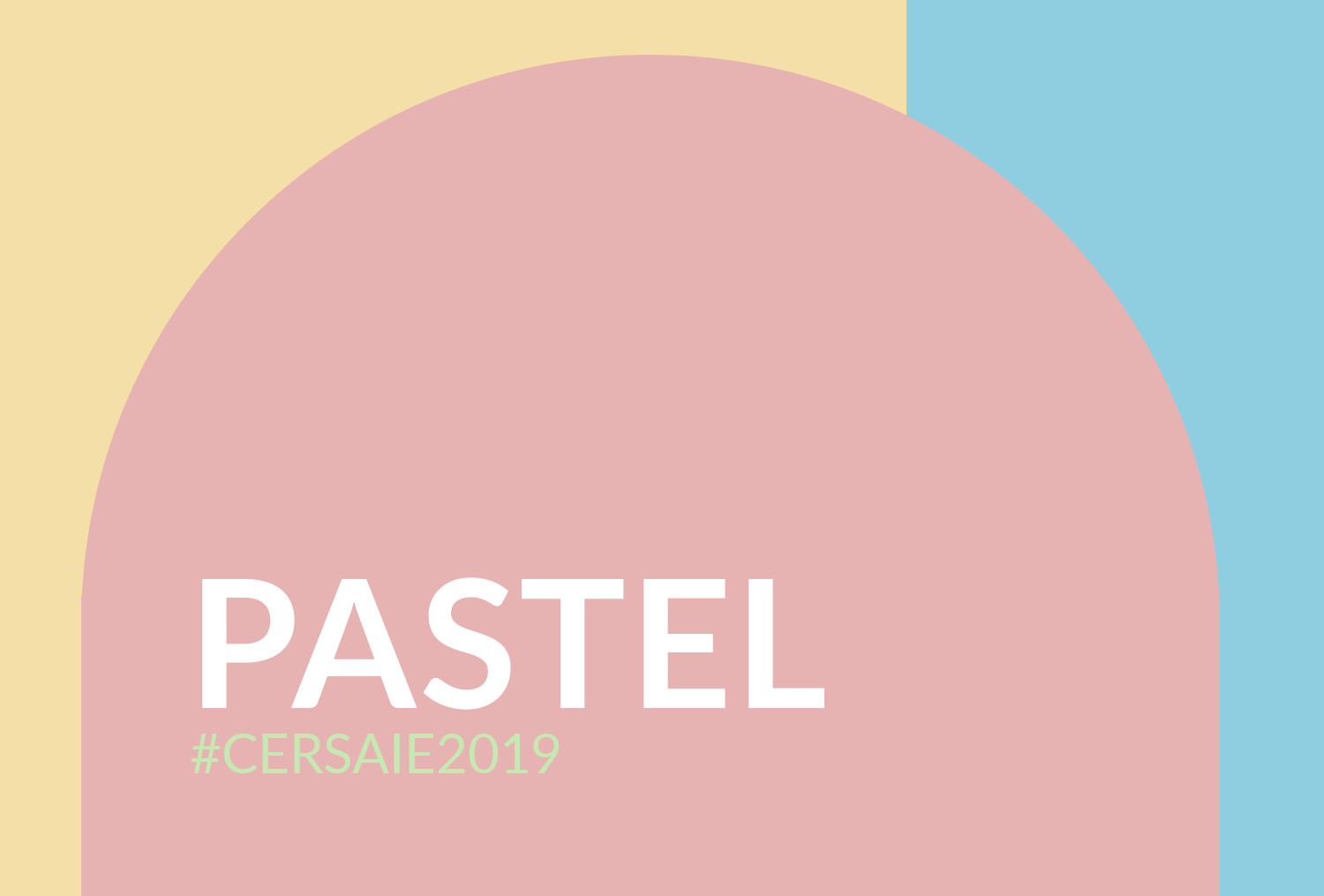 This year the scenography "Pastel" plays with the light shades of dusty pink, celeste, champagne, peach, soft green, in a minimal and relaxing atmosphere that perfectly frames the new Novoceram collections with their strong graphical imprint.
The geometric style of our Dilemme collection welcomes our visitors, encasing our reception desk. This glazed porcelain stoneware, suitable for floors and walls, is reminiscent of Shantung silks for its lines and three-dimensional optical effects. This mix decor in shades of gray is offered in the 60×60 cm format.
The paintings on the walls mix bizarre and irreverent subjects with solid shades of pastel: a mixture of sensuality and minimalism (the philosophy of the stand "Pastel") in strong contrast with our 2020 new collections Teranga and Losa, which boldly show the power of matter such as stone and cement.
Teranga is a concrete-alike ceramic collection with a design of thin cracks declined in 6 colors and in the new 80×80 cm, 90×90 cm and 90×90 cm formats of 2 cm thickness (Outdoor Plus range).
The Losa collection for the interior and the exterior has a wide range of formats ranging from 5×60 to 120×120 cm. This stone-like ceramic collection with an extremely natural appearance faithfully reproduces the natural stone Losa.
In the living area, a place for chatting, you'll find Tiber, a 2020 novelty. This 2 cm thick tile collection is ideal for exteriors and is inspired by travertine and its warm beige and ivory shades, scattered with micro-inclusions. Tiber comes in two versions: Tiber Natural, which reproduces the natural shading of stone and Tiber Light, an elegant selection of lighter colored tiles.
Finally in the office area you will discover the Kawaii collection where Novoceram expresses all its originality. Kawaii is inspired by the eponymous Japanese aesthetic style, sparkling and full of joy, born in the 70s in response to the rigidity of Japanese post-war culture.
We look forward to meeting you inside our Pastel stand from September 23rd to 27th – to discover our 2020 brand new styles!
Practical information :
Stand "Pastel" – Novoceram
CERSAIE 2019
International Exhibition of Ceramics for Architecture and Bathroom Furnishing in Bologna.
Hall 18: Stand B42 – C39
Quartiere Fieristico – Bologna (BO), Italy
From the 23rd to 27th September 2019
From 9.00 to 19.00