CERSAIE 2015: FABULOFT NOVOCERAM – A fabulous loft at the heart of three abandoned factories
Novoceram, a French manufacturer of ceramic since 1863, presents its «Fabuloft» stand: a loft designed by a visionary architect who transformed an abandoned industrial site into a living and working place that mixes industrial style, design and architecture and that opens its doors at Cersaie 2015, the International ceramic exhibition in Bologna for architecture and sanitary-ware.
Novoceram presents the new booth, « Fabuloft », at Cersaie 2015, the International Exhibition of Ceramic Tile and Bathroom Furnishings, in Bologna, Italy taking place in Bologna from 28 September to 2 October.
The project of « Fabuloft » has been created by the interior designer Francesco Catalano to represent a veritable temple of industrial style. This space, originally made up of three production sites active in the 50's, 60's and 70's, has been re-designed as a space for living and working of an imaginary charater, half artist half architect, in a mood of contemporary requalification and whose character emerges in every single detail of the stand.
Maintaining the original soul of these iconic buildings, the project mixes vintage and contemporary design. The decoration elements are a testament to the past and are symbolic sculptures of the present: old production machinery, a transformed container and archetypal elements of industrial architecture such as shed roofs and iron windows.
This fabulous loft is also the place where Novoceram presents the new collections for 2016. The living room and the veranda are covered with Napami, a ceramic wood surface with natural elegance and Petitot, through-colour porcelain stoneware inspired by the works of Edmond Alexandre Petitot, a renowned architect of the 18th century, a collection that adds a chic and captivating look to the studio and the bathroom. Novoceram presents also its first single-firing tile collection in the format 45×45, Domus, with contemporary concrete effect and refined design.
To follow the backstage and all the secrets of « Fabuloft » and to (re)discover all the other Novoceram events, visit the website or the Facebook page.
SYNTHETIC INFORMATION
NAME: Fabuloft
CONTEXT: Cersaie 2015
TYPOLOGY: Exhibition stand
INTERIOR DESIGN: Francesco Catalano
SURFACE: 220m²
INSPIRATION: Industrial style : A visionary architect changes an old industrial site into a loft
PROJECT SHEET: https://www.novoceram.com/projects/fabuloft
ADDRESS: Pavilion 18, Stand B42 – C39Bologna Fair District – Bologna (BO), Italy
DATES: From 28 September to 2 October 2015
OPENING TIMES: From 9.00 to 19.00
THE COMPANY
The story of Novoceram started in 1863 in Saint-Vallier-sur-Rhône. With its 4 million m² of annual production, 42 million Euros of sales, a production site surface of 120,000 m² and 170 employees, the company is one of the leading producers of ceramic tiles in France. Novoceram adopts a constant and coherent environmental policy that has enabled it to obtain ISO 14001 certification for its Environmental Management System and ISO 50001 certification for its Energy Management System. Novoceram has been part of the Concorde Group, one of the major producers of ceramic cladding in Europe, since 2000.
THE DESIGNER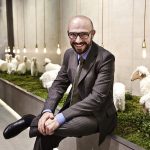 Francesco Catalano is the designer behind all the booths and exhibition spaces of Novoceram. He is Marketing Manager and Art Director for the company and owner of his own interior design firm based in Reggio Emilia (Italy) specialized in bold, unconventional interiors for commercial and residential environments. His work is recognized throughout the design community, winning awards like the prestigious Etoile of the Observeur du Design, in France, and several nominations to the Compasso d'Oro, in Italy. He is also a prolific author of marketing books and articles. In 2010 he founded the blog Gorgonia where he shares his knowledge about marketing and design.
Scopri di più
INFORMATION AND INTERVIEWS
Our press office, the whole Novoceram team and Management are at your disposal for any further information or for an interview about the booths, the products or the company. Do not hesitate to contact us at: pressoffice@novoceram.fr.