Designer's Days 2010 : « Mister X » – The Temporary Story by Novoceram at Designer's Days 2010 in Paris
In its temporary installation at Designer's Days 2010, Novoceram, French ceramics manufacturer since 1863, stage the imaginative story of Mister X, a curious character with ten faces that changes his clothing style, the design of his home and – of course – the floor of its rooms, for each of his different identities.
Designer's Days, il più importante appuntamento parigino con il design internazionale, festeggia i suoi dieci anni invitando architetti, designer, e soprattutto il grande pubblico, a scoprire le installazioni temporanee realizzate per l'occasione dalle aziende più importanti del design che celebrano il tema dell'edizione 2010 dell'iniziativa: il numero 10.
Tra le marche ambasciatrici del design, Novoceram, produttore francese di ceramica dal 1863, racconta una storia originale e divertente, che permette ai visitatori di scoprire "Les 10 visages de Mister X": personaggio immaginario dai dieci volti che ha ispirato il progetto dell'interior designer Francesco Catalano, Direttore Artistico della griffe.
Nella temporary story raccontata da Novoceram il misterioso Mister X ha affidato all'azienda le chiavi del suo pied-à-terre parigino dove custodisce il segreto delle sue dieci identità. Ossessionato dai dettagli, compone con cura e attenzione maniacali ogni carattere dei suoi personaggi, ogni volta che la sua identità si rinnova: dallo stile dell'abbigliamento all'intonazione della voce, fino all'arredamento della sua dimora, che per ognuno dei suoi 10 volti richiede quindi un diverso pavimento.
Questo capriccio (o esigenza?) apparentemente insormontabile diventa possibile grazie alla versatilità dei suoi sistemi di posa flottante Novoceram Indoor Plus, Novoceram Outdoor e Novoceram Outdoor Plus, che combinano tutti i vantaggi della ceramica con la possibilità di rinnovare l'aspetto di pavimenti interni ed esterni rapidamente e facilmente.
Per scoprire il backstage dello stand e gli altri segreti di "Mister X" e per (ri)vivere tutti gli altri eventi di Novoceram, appuntamento sul sito o sulla pagina Facebook.
INFORMAZIONI PRATICHE
NOME : Mister X
CONTESTO : Designer's Days 2010
TIPOLOGIA : Stand fieristico
INTERIOR DESIGN : Francesco Catalano
SUPERFICIE : 50 m²
ISPIRAZIONE : Un personaggio immaginario dai 10 volti che cambia stile, arredamento e pavimento per ognuna delle sue identità
SCHEDA PROGETTO : https://www.novoceram.it/realizzazioni/mister-x
INDIRIZZO : Galerie Le Before – Quartier du Marais – 21 rue des Filles du Calvaire – Paris 3ème, – France
DATE : Dal 9 al 14 giugno 2010
ORARI : Dalle 10.00 alle 20.00
THE COMPANY
The story of Novoceram started in 1863 in Saint-Vallier-sur-Rhône. With its 4 million m² of annual production, 42 million Euros of sales, a production site surface of 120,000 m² and 170 employees, the company is one of the leading producers of ceramic tiles in France. Novoceram adopts a constant and coherent environmental policy that has enabled it to obtain ISO 14001 certification for its Environmental Management System and ISO 50001 certification for its Energy Management System. Novoceram has been part of the Concorde Group, one of the major producers of ceramic cladding in Europe, since 2000.
THE DESIGNER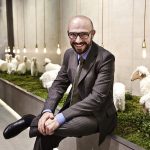 Francesco Catalano is the designer behind all the booths and exhibition spaces of Novoceram. He is Marketing Manager and Art Director for the company and owner of his own interior design firm based in Reggio Emilia (Italy) specialized in bold, unconventional interiors for commercial and residential environments. His work is recognized throughout the design community, winning awards like the prestigious Etoile of the Observeur du Design, in France, and several nominations to the Compasso d'Oro, in Italy. He is also a prolific author of marketing books and articles. In 2010 he founded the blog Gorgonia where he shares his knowledge about marketing and design.
Scopri di più
INFORMATION AND INTERVIEWS
Our press office, the whole Novoceram team and Management are at your disposal for any further information or for an interview about the booths, the products or the company. Do not hesitate to contact us at: pressoffice@novoceram.fr.