CERSAIE 2009: ECO VINTAGE – A magic woods made of eco-sustainable ceramics
There's a magic wood, made only of eco-sustainable ceramics and colorful recycled fabrics, rising at Cersaie 2009, International Exhibition of Ceramic Tile and Bathroom Furnishings in Bologna: it's the booth « Eco Vintage » by Novoceram, French ceramics manufacturer since 1863, who celebrates the achievement of its environmental certification.
Novoceram, French ceramics manufacturer since 1863, starts at Cersaie 2009 a new chapter for its creativity, showing a path through the stand "Ecovintage" that becomes a magic woods made of eco-sustainable ceramics and vintage fabrics.
An audacious concept designed by Francesco Catalano who conceives a surrealistic oasis in the forest, inhabited by a gentle spirit, who decided to live dipped in nature in order to rediscover his most authentic dimension, but when night comes down he approaches again to city borders to capture the objects that men have discarded, taking them with him, to restore new life and to furnish his secret nest.
Real logs, coming from replanted crops, alternate and blend with fake tree trunks covered with vintage clothing fabrics that match with the style of the different pieces of furniture, all found in flea markets, in the ecological spirit of recycle and reuse, always respecting the fil rouge of charm, one of the corporate values of Novoceram.
With "Ecovintage", Novoceram also celebrates the achievement of ISO 14001 and ISO9001 certifications and the Ecolabel for the full collections range, showing once again the company commitment in environmental sustainability.
The path through the stand leads the visitor in the discover of the company collections: Elixir, Samsara and Origine and the precious ceramic coverings TrèsJouy and Florilège.
To follow the backstage and all the secrets of « Eco Vintage » and to (re)discover all the other Novoceram events, visit the website or the Facebook page.
SYNTHETIC INFORMATION
NAME: Eco Vintage
CONTEXT: Cersaie 2009
TYPOLOGY: Exhibition stand
INTERIOR DESIGN: Francesco Catalano
SURFACE: 150m²
INSPIRATION: A magic woods made of eco-sustainable ceramics littered with recycled objects
PROJECT SHEET: https://www.novoceram.com/projects/eco-vintage
ADDRESS: Pavillon 18, Stand B42 – C39Bologna Fair District – Bologna (BO), Italy
DATES: From 29th of September to 3rd of October 2009
OPENING TIMES: From 9.00 to 19.00
THE COMPANY
The story of Novoceram started in 1863 in Saint-Vallier-sur-Rhône. With its 4 million m² of annual production, 42 million Euros of sales, a production site surface of 120,000 m² and 170 employees, the company is one of the leading producers of ceramic tiles in France. Novoceram adopts a constant and coherent environmental policy that has enabled it to obtain ISO 14001 certification for its Environmental Management System and ISO 50001 certification for its Energy Management System. Novoceram has been part of the Concorde Group, one of the major producers of ceramic cladding in Europe, since 2000.
THE DESIGNER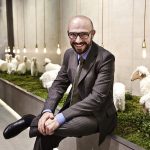 Francesco Catalano is the designer behind all the booths and exhibition spaces of Novoceram. He is Marketing Manager and Art Director for the company and owner of his own interior design firm based in Reggio Emilia (Italy) specialized in bold, unconventional interiors for commercial and residential environments. His work is recognized throughout the design community, winning awards like the prestigious Etoile of the Observeur du Design, in France, and several nominations to the Compasso d'Oro, in Italy. He is also a prolific author of marketing books and articles. In 2010 he founded the blog Gorgonia where he shares his knowledge about marketing and design.
Scopri di più
INFORMATION AND INTERVIEWS
Our press office, the whole Novoceram team and Management are at your disposal for any further information or for an interview about the booths, the products or the company. Do not hesitate to contact us at: pressoffice@novoceram.fr.