TERRACE & GARDEN DESTINATION – All the Novoceram Floor Collections for terrace and garden
Novoceram, french ceramics producer since 1863, proposes a broad selection of non-slip Porcelain Stoneware floors for outdoor.
Novoceram, french ceramics manufacturer since 1863, proposes a broad selection of non-slip Porcelain Stoneware floors for outdoor. Eleven Collections to meet all possible stylistic requirements: from Wood to Stone, from Concrete to Resin, as well as laying system with 2cm thick tiles, designed for both traditional and floating tiling.
As far as terrace and garden are concerned, Porcelain Stoneware floors offer many technical and aesthetic advantages. Its lack of porosity makes it extremely weatherproof, it doesn't freeze and doesn't fear any temperature change. Easy to maintain, it proves to be incredibly resistant to external factors, such as shocks, scratches, chemicals and offers many essential advantages for this intended use: great foot-traffic resistance, durability, dimensional stability and anti-slip surface.
Another great advantage of Novoceram Porcelain Stoneware floor for outdoor is the wide range of aesthetic solutions, which is perfectly suitable for any style of living, whether classic or contemporary. The Stone Effect floors Geo, Cast, Icône, Orage, chic and authentic, and Ceramic Wood Noa, elegant and evergreen, are glaring examples. For a modern outcome instead, Azimut, a Concrete Effect covering, or Zen, a Resin Effect one, both offer a complete selection, for indoor and outdoor, to ensure an harmonious continuity between internal and external areas, as well as Samsara and Moon. The floor laying on the terrace can be made in a traditional way, on screed but also easily through the floating tiling System Outdoor Plus, with 2cm thick Porcelain Stoneware tiles. With the floating tiling on gravel, sand or grass (with stepping stones), without glue or joints, or even the raised installation, the tiling System Outdoor Plus by Novoceram let us completely redesign the terrace: easy to lay and replace, reusable, available in 60x60cm and 45x90cm sizes, it comes in 7 versions, meeting thereby any aesthetic taste
To find out more about Terrace & Garden Destination Ceramics and (re)discover all the Novoceram collections, please visit our official website or join our Facebook page.
PRODUCT SHEET
 
USE:
Exterior floor covering
Wall covering
TECHNOLOGY: Colored in body porcelain stoneware
COLLECTION: Azimut Cast Geo Icône Orage Noa Moon Samsara Zen
SIZES : 30×30 45×45 10×60 30×60 60×60 45×90
FINISHES: Antislip, Structured
DECORATIONS AND TRIMS : Mosaic Accessoires for swimming-pool Skirting Step
THE COMPANY
The story of Novoceram started in 1863 in Saint-Vallier-sur-Rhône. With its 4 million m² of annual production, 42 million Euros of sales, a production site surface of 120,000 m² and 170 employees, the company is one of the leading producers of ceramic tiles in France. Novoceram adopts a constant and coherent environmental policy that has enabled it to obtain ISO 14001 certification for its Environmental Management System and ISO 50001 certification for its Energy Management System. Novoceram has been part of the Concorde Group, one of the major producers of ceramic cladding in Europe, since 2000.
THE DESIGNER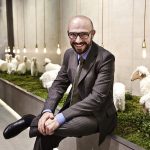 Francesco Catalano is the designer behind all the booths and exhibition spaces of Novoceram. He is Marketing Manager and Art Director for the company and owner of his own interior design firm based in Reggio Emilia (Italy) specialized in bold, unconventional interiors for commercial and residential environments. His work is recognized throughout the design community, winning awards like the prestigious Etoile of the Observeur du Design, in France, and several nominations to the Compasso d'Oro, in Italy. He is also a prolific author of marketing books and articles. In 2010 he founded the blog Gorgonia where he shares his knowledge about marketing and design.
Scopri di più
INFORMATION AND INTERVIEWS
Our press office, the whole Novoceram team and Management are at your disposal for any further information or for an interview about the booths, the products or the company. Do not hesitate to contact us at: pressoffice@novoceram.fr.