Novoceram's "Ô" Stand was finally unveiled on Tuesday 28 September at Cersaie, the International Exhibition of Ceramic Tile and Bathroom Furnishings, open until 2 October 2010 in Bologna.
On a larger stand with a total surface area of about 340 sq m, Novoceram takes its visitors far from dry land into a world lapped by serenity and well-being. From the outside, the stand is already striking for its blue and fuchsia luminosity. A giant letter "Ô" above the entrance portico announces this year's theme – water.
As they enter, visitors seem to cross a waterfall, to then pass through drop-shaped doors opening out of the walls clad with thousands of metal scales.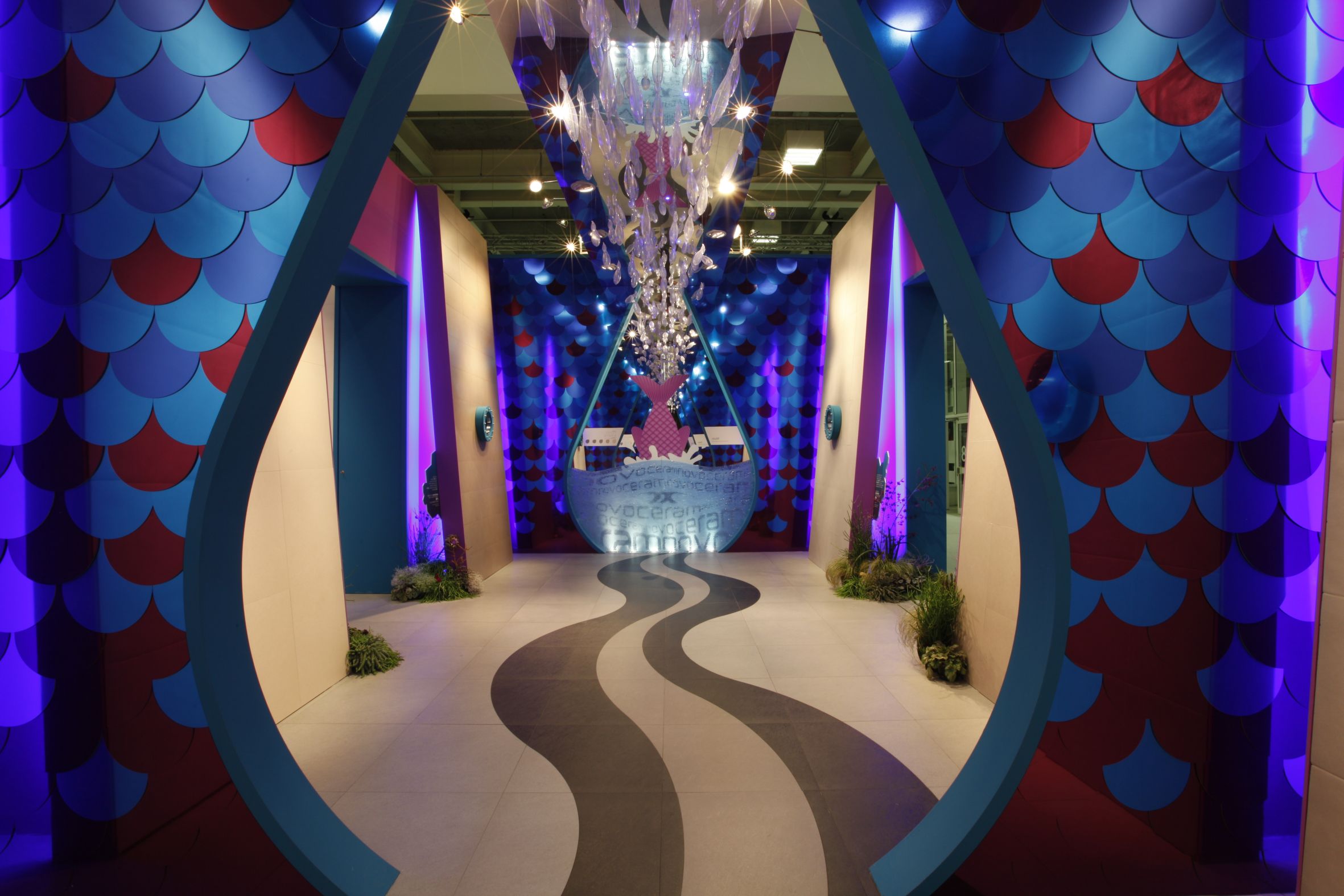 On the floor, a large pattern created with water-jet cut tiles from the Samsara series forms a two colour wave apparently extending to infinity. All around, the new Patio series for outdoor paving evokes the relaxing sensation of bare feet on stone, affirming its own decisive character.
Alongside, the new Moon series, more discreet and elegant and inspired by pietra serena sandstone, has a minimal natural appearance, its generally regular surface rich with small details with great fascination and refined elegance.
On the ceiling, a shoal of more than 400 transparent fish swims from the entrance to the back of the stand where each individual fish is multiplied in an infinite repetition of its own reflection in the mirror.
Parallel to the entrance corridor, a second room contains stands displaying the new wall tile series Esprit 25×45, Platina 20×20 and 25×45 and Cristal 25×45. At the centre is a space reserved for the three large wave-shaped display surfaces under 12 giant jellyfish, luminous and… harmless.
The stand gives an overall impression of quiet and relaxation, also perceptible through the photographs, truly regenerating and gratifying after the last few weeks of hard work for all the Novoceram team