I have already told you about the tendency to mix & match in this blog, but actually you can also mix fixed elements of decoration, such as wallpaper and porcelain tiles.
Patchwork collection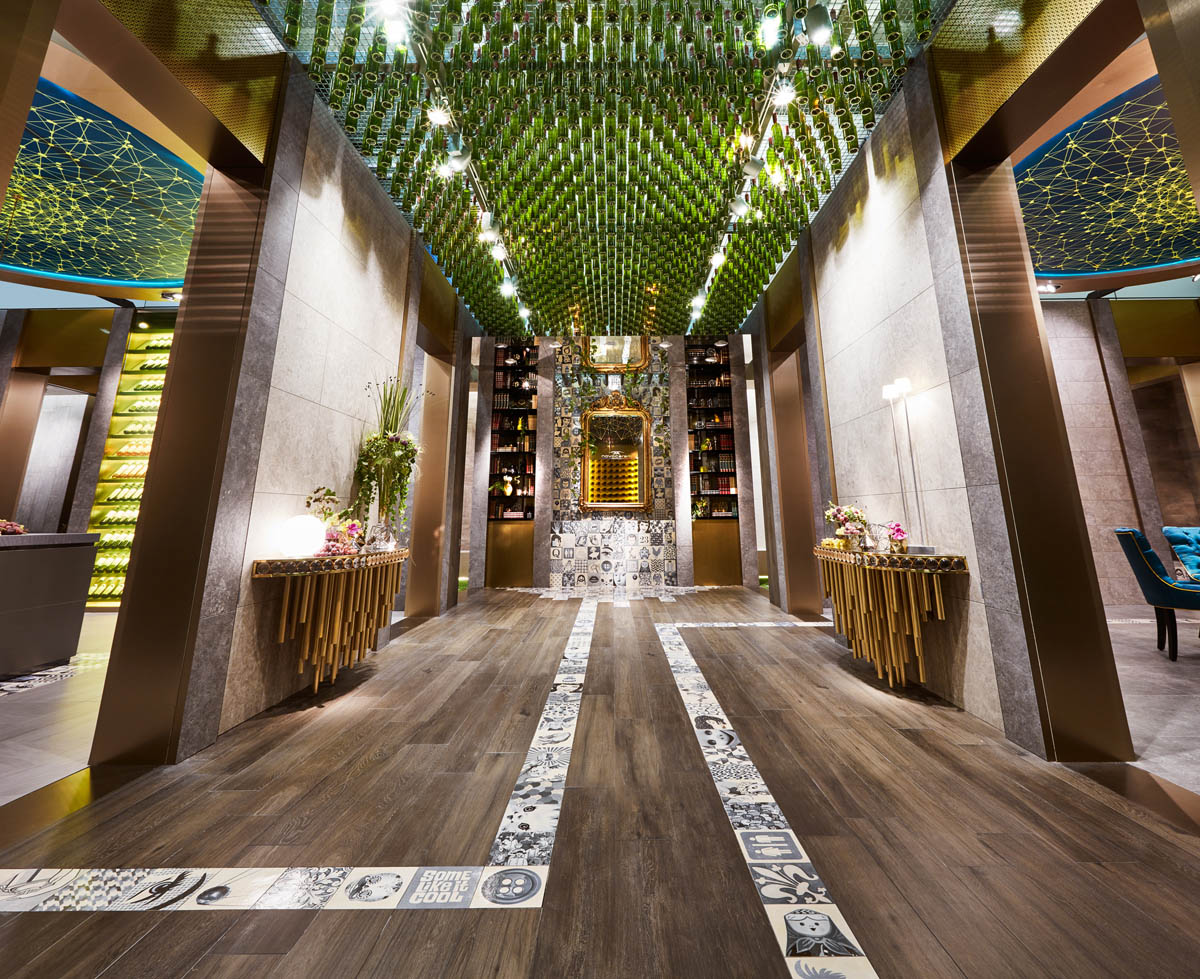 Indigo collection
For those who look for a more precious mix & match effect, the answer is in other Novoceram collections. A wood look and a stone look for a purely elegant and natural style. This combination is ideal for bathrooms, but also for other rooms in which one wishes to bring a more precious touch.
Noa collection
Twice Philippe Starck, who needs no introduction, has competed in a game of mixing tiles. In his La Co (o) rniche in Pyla-sur-Mer, several areas are covered with cement floor tiles with patterns for mixed signal paths or protected areas. The hotel and its location are magnificent. Here are some photos to cheer up your eyes.
Below, the outside of the hotel where you can already see the path made of a patchwork of black and white tiles that match the colors of the facade and its fixtures. Below you can see the geometry of the tiles coordinate with straight lines and rigorous in the garden. The hotel has a swimming pool that is naturally lost in the horizon of the Atlantic Ocean with a view onto the mouth of the Bay of Arcachon closed in the distance from the tip of Cap Ferret.
Here's the inside … you can imagine the time spent and the patience of the installers to arrange the tiles … it might not have been placed randomly! Also for the restaurant Ma Cocotte in St Ouen, Philippe Starck has used the same trick. Below are the photos of this restaurant, that is said to be ideal for a lunch after having sacked the flea market! And for those who wonder why they have called a restaurant "Ma Cocotte" this is a beginning of explanation with this verse written on the menu!
In conclusion, you can mix all the elements of decoration while still following a rule: achieve harmony by finding the common denominator of the different components such as color, size or material.
Bohème collection