April is already here, spring is slowly settling in and with it, the desire to enjoy the outdoors. Outdoor development projects are therefore topical. This time we would not talking about decoration but about how to choose tiles (surprising, isn't it?) and … swimming pool !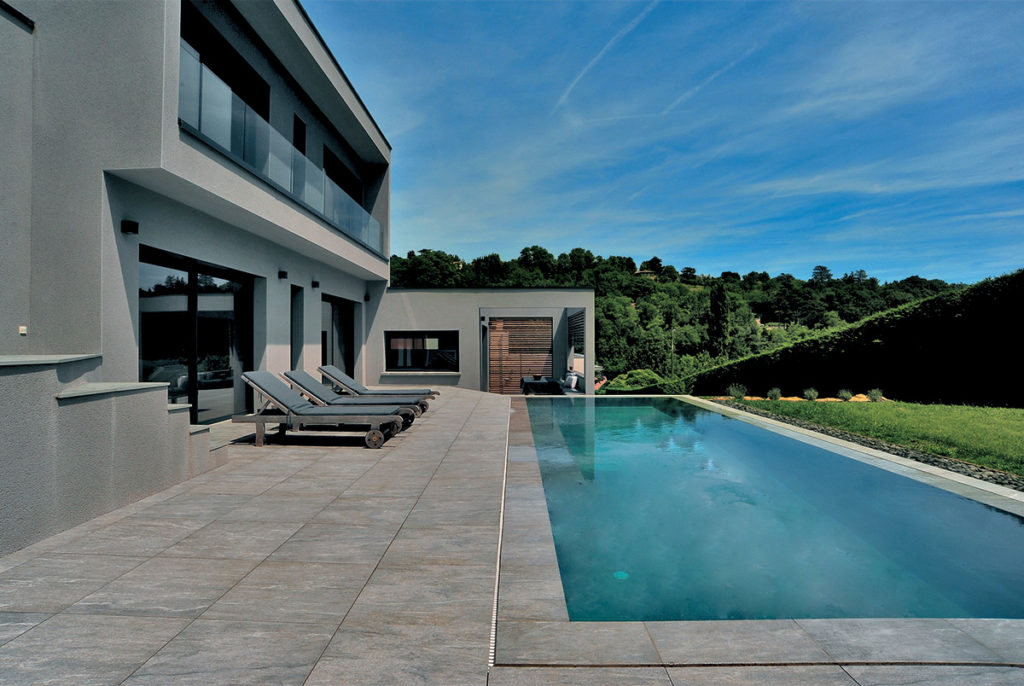 Lounging by the pool, diving to cool off… who doesn't dream of it? But building an in-ground pool is a project to think about. Many questions arise and choices must be made. What pool size? Should I choose an in-ground or a semi in-ground pool? What type of materials should be used? What type of filtration system should be used? What type of lining should be used around the pool? What to choose for the inside of the pool: tiles or liner?
Among all these questions, we have chosen to focus on the surfaces that can be tiled, which are the edges and the inside of the swimming pool.
It is necessary to dissociate the two because the technical characteristics are not the same, we will be talking here on the tiling for swimming pool and more specifically for the pool deck.
Tiles for pool deck: aesthetic choice
The choice of the covering which will border the pool is very important: as much from a safety point of view, a maintenance point of view, but especially from an aesthetic point of view: it is what will give the atmosphere of your outside.
Among the wide range of products offered to cover the pool area, tiles are very attractive for different reasons, but especially because they offer a wide range of choices, starting with the formats, from 30×60 to 60×90 cm.
As for the colors, different shades are proposed, from the most rustic and natural, to give the impression that your pool has always been there, to the more contemporary tones.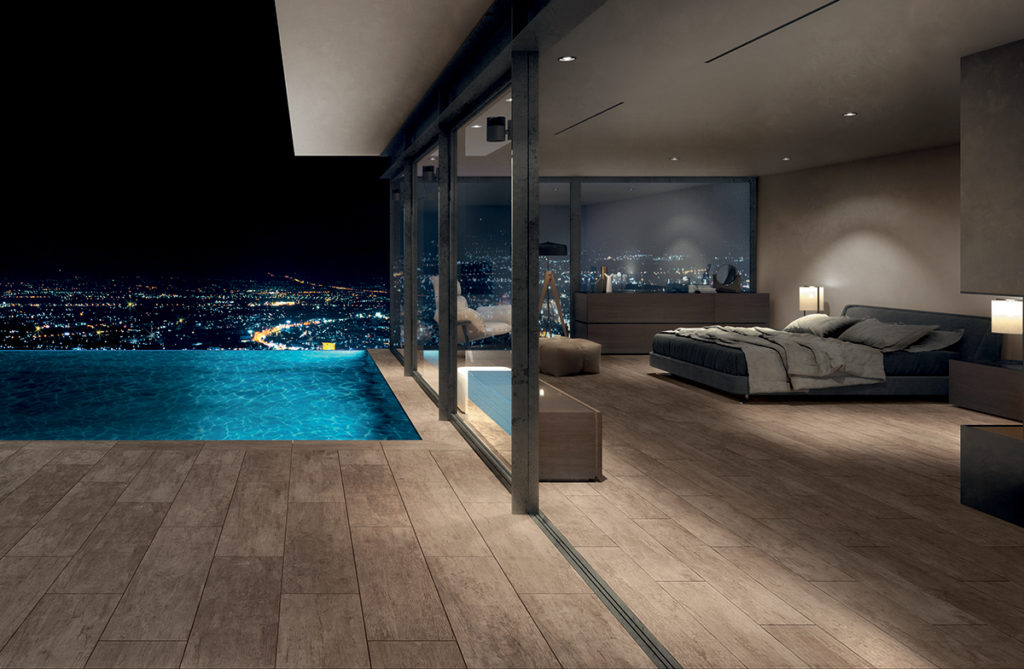 The biggest advantage of pool tiles is, however, the variety of looks. You will find stone effect tiles for the pool, wood look tiles or cement look tiles. You can also opt for more neutral tiles with no particular aspect for a more minimalist look.
You may be asking, why choose tiles instead of stone or wood? Without mentioning the financial aspect, from a technical point of view, tiles have significant qualities.
Tiles around swimming pool: the advantages of ceramic tiles
Indeed, tiles with a stone or wood look combine the aesthetics of these materials with the technical characteristics of ceramics, which have many advantages. These include ease of daily maintenance, resistance to temperature changes, frost and weathering, scratch resistance, UV resistance… but above all, tiles are perfectly resistant to water, chlorine and salt, which is rather important when it comes to swimming pools, admit it!
The intrinsic characteristics of porcelain stoneware mean that you would not need waterproofing. To clean the pool deck, you can use a pressure washer or more aggressive cleaning products if needed. Another advantage of ceramic tiles, especially when it comes to wood effect tiles for the pool, is that its appearance does not change over time; you will keep the wood look you have chosen without having to treat or sand it, which, we must admit, is quite pleasing to know!
Pool deck tiles: Technical Qualities
Be careful, however, not all porcelain stoneware tiles are suitable for outdoor installation on a pool deck. You must choose tiles that respect the anti-slip standards. You will find all the technical information in our article on anti-slip tiles.
For you, we will make a small summary. According to French standards, for a tile around a swimming pool, it must be classified at least A+B (DIN 51097 standard which corresponds to a barefoot slipperiness of PN18). For immersed parts such as stairs or a ramp giving access to the water, tiles must be A+B+C (PN24 equivalent). For our part, we recommend that it is also classified R11 (according to DIN 51130 slipperiness resistance with footwear) even if the standards do not require it. We would like to draw your attention to the fact that in order to keep all its anti-slip characteristics, the laying of the tiles must be carried out according to the rules of art. It is also important to maintain it regularly.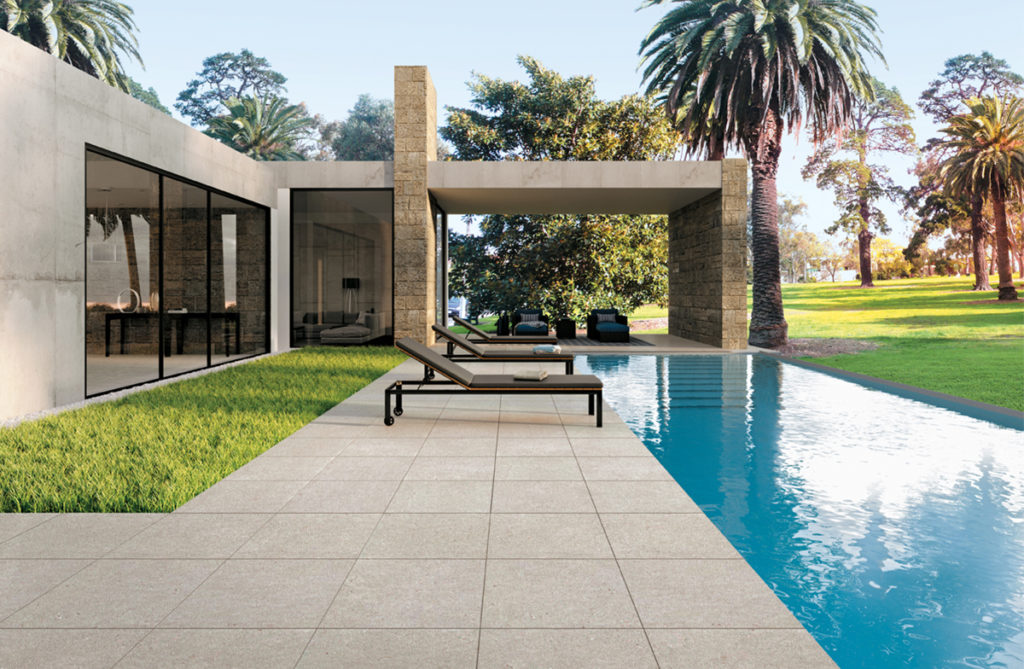 Pool: coping stones and other special parts
All collections of pool deck tiles also offer special pieces. To begin with, there are pool copings with different finishes. There is the ¼ circle edge coping, the ½ circle edge coping, the straight edge coping, not to mention the flared edge and AD edge coping. Internal or external corner pieces are also available with, just as for the coping, several possible finishes.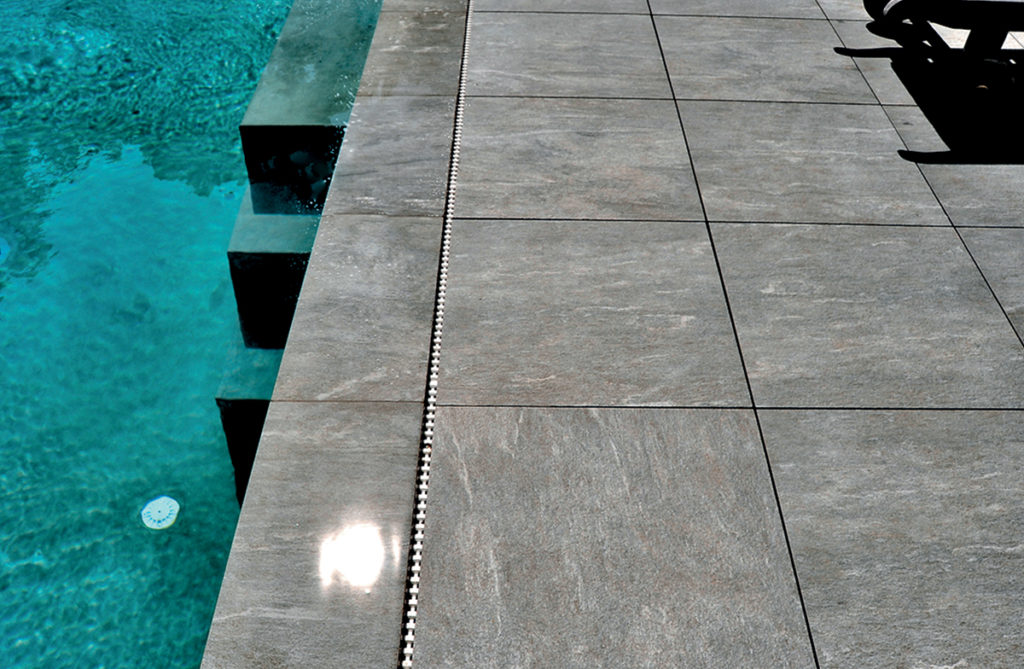 Grids are available to cover the gutter; an excellent way to keep the continuity of the floor with elegance. You can find more information on this article dedicated to special pool parts.