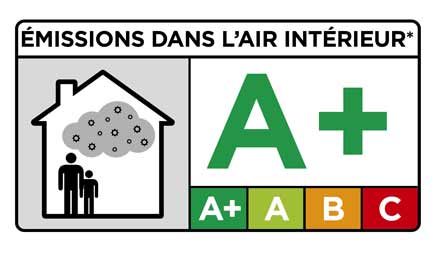 New French packaging regulations require us to give information on all our boxes about levels of volatile substance emissions into indoor air, which have a toxic inhalation risk.
Decree 2011-321 of 23 March 2011 and the decree of 29 April 2011 on labelling of building products or wall or floor coverings and paint and varnishes with regard to their emissions of volatile polluting substances indicate that it is now mandatory for manufacturers to affix a label to the product or its packaging informing the consumer of the possibility of emissions of volatile products.
Low emission products are graded A+; high emission products are graded C.
All Novoceram products are graded A+, the lowest level of emissions in this classification. But in actual fact, our tiles, which contain absolutely no Volatile Organic Compounds (VOC) – the criterion assessed – do not emit anything and exceed even the criteria for the A+ grade.
Indeed, all Novoceram products have been Ecolabel certified since 2009. This European ecological quality mark guarantees to consumers that the product is environmentally friendly throughout its life cycle, from the extraction of the raw materials, through all stages of the production and distribution process, to disposal. To obtain this ecological certification, the tiles must meet and comply with strict rules. For example, it is completely forbidden to use glazes containing pollutants such as lead, cadmium or antimony; this technique allows us to create products that do not release harmful substances during the manufacturing stage but also during daily use by the end user.
The obligation to affix this information and this logo on our packaging is therefore very favourable and positive for Novoceram as the company already has products which are healthy and safe for the environment and human health.
The law is applicable from 1 January 2012 for new, and from September 2013 for old, products but Novoceram has already started to label all its packaging from 1 January 2012. This is why you can find this logo on every pack of Novoceram tiles of all sizes, and on all accessories and decorations. This is another advantage to guarantee to our customers that our products are totally environmentally compatible with nature, but also a guarantee that their health is being protected.