Work in the Novoceram show room
During Métamorphose, Novoceram's Temporary Show bringing new life to the Hotel des Voyageurs in St Vallier, the show room in the company's Champblain premises will also be renewed.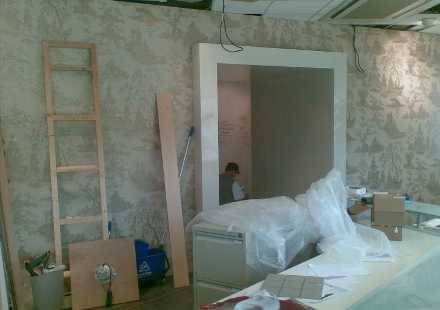 A complete redefinition of the spaces involving demolishing and reconstructing the partition walls.
Today, 2 June, the countdown to the opening has reached six days and it seems impossible that everything will be ready on time.
In a space which now seems decidedly restricted, the team responsible for mounting the structure is completing the finishing touches, while five layers are tiling the floors and walls and three electricians are completing the wiring and positioning the spotlights.  Then the rubble must be removed, the joints grouted, the area cleaned and furnished, the spots adjusted, etc.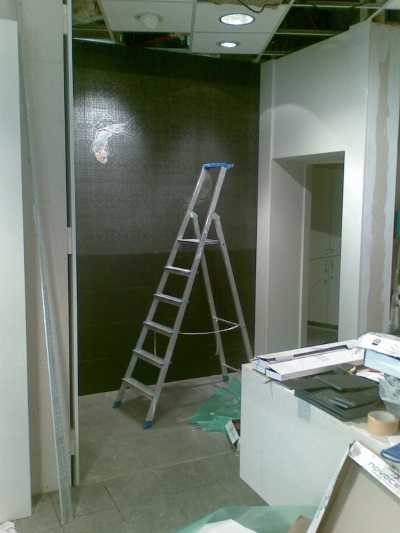 Yet from the work site, you can already appreciate the structure and impact of the set. From the door opening onto the large Très Jouy wall, the corridor tiled in Origine, Novoceram's ceramic wood, connects and at the same time separates the various settings.
Work is also continuing to lay the 10×10 Fil de Coco and Dentelle tiling inside a shower area which promises to be truly fabulous.
The Chamade, Valvert, Fossil and Voyage settings are almost completed, as is the highly effective perforated part already tiled in 15×90 Origine Argile.
Work is almost complete in the kitchen area, entirely dedicated to the latest 2009 Samsara products, used in all available colours and sizes and in both the smooth and textured versions.
In the show room, the Metamorphosis continues and will be completed by the deadline.
One comment :
Comment this post