The latest technological innovations in the ceramic tile production sector make it possible to faithfully reproduce the aesthetic appearance and the consistency of stone, wood, leather and many other materials: it is now possible thus to combine the traditional and well-known advantages of ceramics with innovative and unusual aesthetic effects.
Thus, ceramic wall tiles are coming out of bathrooms and kitchens, where they have been traditionally relegated, and are entering in their own right rooms once reserved for coverings considered more noble, like wood panelling and wallpaper.
Moreover, it allows wallpapers, made from valuable white body ceramic, to embellish rooms from which it used to be excluded, such as bathrooms and other environments such as spas and fitness centres.
So here is a selection of the finest Novoceram ceramic wallpaper.
Flora and fauna: Florilège and Aquarium
Inspired by 17th-century hand-painted Chinese tapestries, the Florilège series is a modular composition of twenty-four 22.5×45 cm tiles forming a 135×180 cm motif that can be repeated infinitely and in which flowers, butterflies and multi-coloured birds are alternated on a delicate branch. The mix of extremely fine white ceramic, the light weave which gives an amazing fabric effect, and the brightly-coloured decoration combine to create an area rich in details and with an unsurpassed scenic effect.
From element to element, the Aquarium insert is a rarefied, transfigured representation of the aquatic environment: two koi carp, defined by various frames of precious metals, appear on the surface of an imaginary expanse of water, where the waves become translucent arabesques. The voluptuousness and preciosity of hand-painted wallpaper enter fearlessly into bathing rooms, for a unique sensory experience.
With Novoceram Trèsjouy, the famous Toile de Jouy, a classic decorative motif of 18th-century French tapestry, is given new life in an interpretation which combines the wonderful harmony of the elements that make it up with the luxury of the pure gold with which the entire design is realized. Trèsjouy recalls the eternal charm of the characters in these courteous and pastoral scenes on twelve 22.5×45 cm tiles which can be infinitely repeated to decorate the most intimate or the most prestigious rooms with new, refined elegance. Due to these innovative features and the elegant way it recaptures and enhances the French decorative tradition, Trèsjouy has been awarded the Observeur du Design 10 label.
At the last Cersaie 2011 the Novoceram Art catalogue was enhanced with the Alliance series, a meeting point of decorative themes and traditions which seem to be totally unconnected. On the one hand, there is the mosaic technique, traditionally applied to stone or glass, but open for use in ceramics also.
On the other hand, there is a creation which imitates the consistency of wood in a design which superimposes on a background of traditional Byzantine lozenges a three-dimensional effect ring design which seems to belong to another dimension. Alliance is a composition of twelve 45×45 cm tiles in which the mosaic tesserae are simply pre-cut, making them considerably easier to lay.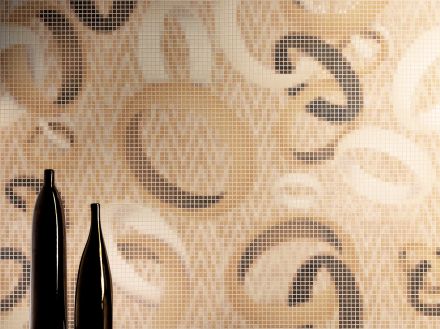 As well as the examples above, we recommend you to read our article "Choosing bathroom tiles"
Curiously, wallpaper manufacturers are, by contrast, playing with reproducing tiles, grout joints included, with an interesting trompe-l'oeil effect. For example, here are the creations of the designer Louise Body with her collections of "Paper Tiles"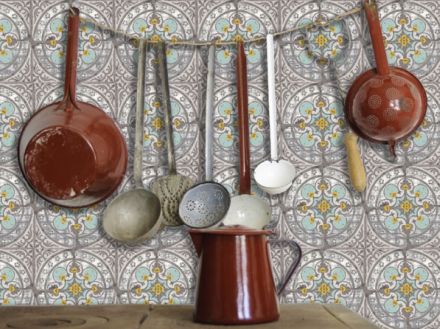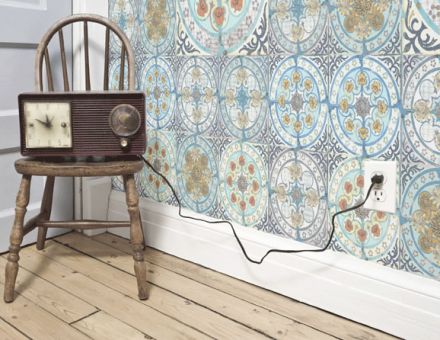 However, these curious and sometimes charming examples do not give any real practical advantage.