The DIY "Do It Yourself" is a very trendy and increasingly popular practice. It is in itself gratifying to build something with one's own hands, but building something beautiful and useful, that is the apotheosis!
We have therefore decided to present a number of simple and effective suggestions for DIY furniture and decoration to enhance your house and your talents of "craftsmen".
The first item of the series is the stool. You may be wondering why we have chosen a stool.
A stool is very handy and inconspicuous, it can be easily stored and above all it can be intended for many purposes: you can just sit on it, but it can also provide an useful support surface. And last but not least, it is better to start with something simple, not to be discouraged right from the beginning!
In the blogosphere, overflowing with creative ideas, there are plenty of DIY stools: here's a selection of three low-cost stools made with with three different materials – concrete, wood and paper.
1. How to build a cement DIY stool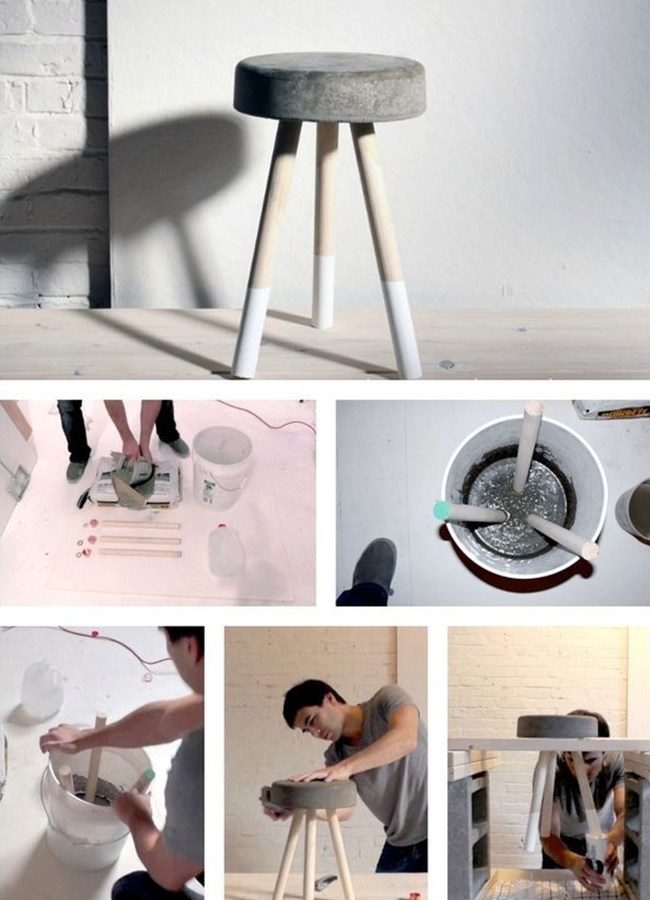 Photo : HomeMade Moderne
Let's start from Ben Uyeda's "The $ 5 Bucket Stool", easy to make and very inexpensive. With its minimalist, industrial look, this stool will be your pride! You only need a bucket, some wooden feet of the same height, some concrete and a little patience to build your stool in cement.
You can add a fashionable dipped effect which mixes the effect of the raw material and that of a colored surface. Customize your stools by mixing colors, the material of the feet, the shape of the seat … free your imagination!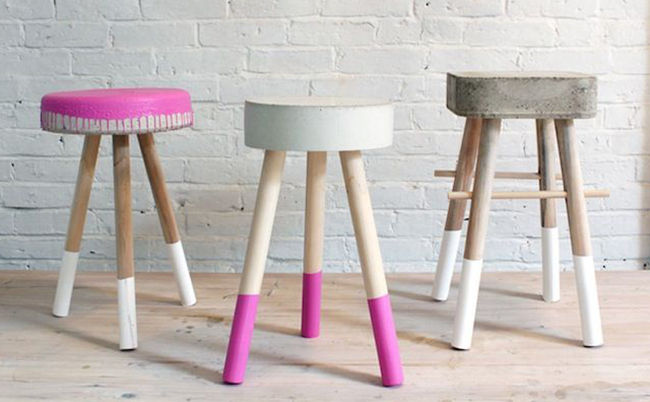 Photo : HomeMade Moderne
To help you, we suggest you to visit the very nicely illustrated blog HomeMade Moderne on which you can follow the construction step by step.
This stool will blend perfectly with the collection Azimut and its concrete effect.
2. How to build a wooden DIY stool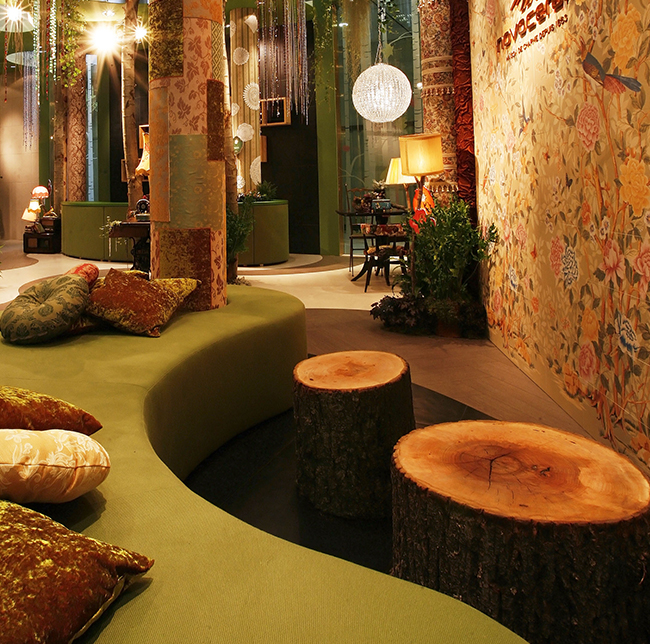 Does the use of concrete intimidate you? Is it too technical? Here's an even simpler item, a stool made from a wooden log, tested and approved in our booth EcoVintage! You only need a little bit of paint and a sander. You will get the best result with a minimum effort: a design model with a natural touch, with its minimal style and colorful effect raw and contemporary at the same time, that can be placed on wheels or directly on the floor. Once again give rein to your creativity!



This wooden stool can match perfectly with the collection Noa, wood effect of course!
3. How to build a DIY stool with magazines?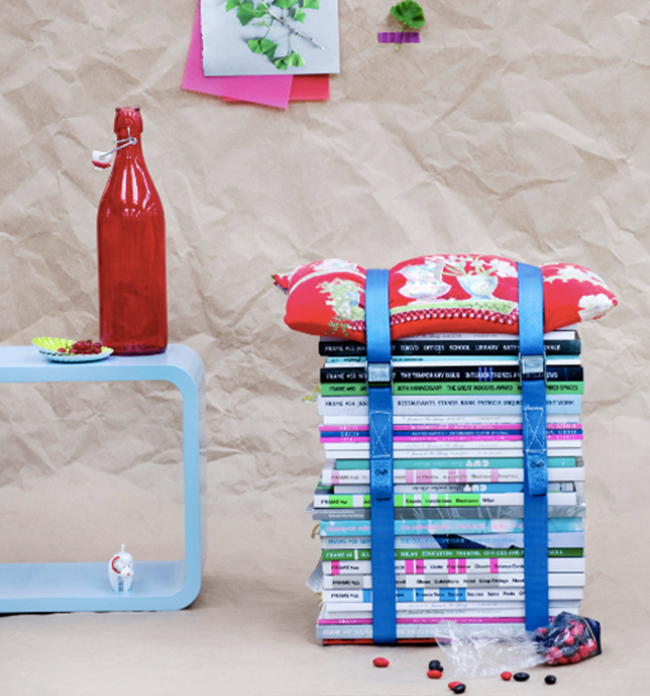 Photo : Christine Bauer
If you are keen readers of magazines… if you're not big on the bricolage…if painting and DIY tools scare you … here is the solution for you! Are you overwhelmed by the magazines and you do not feel like throwing them away? Well, arrange them in stacks – if you want you can add a pillow at the top in order to make them more comfortable – then tighten them with straps for a better stability and the you are off! This is an excellent method not only to create a fantastic stool, but to tidy up your living room as well! Brilliant, isn't it?
4. One more idea! How to build a hourglass DIY stool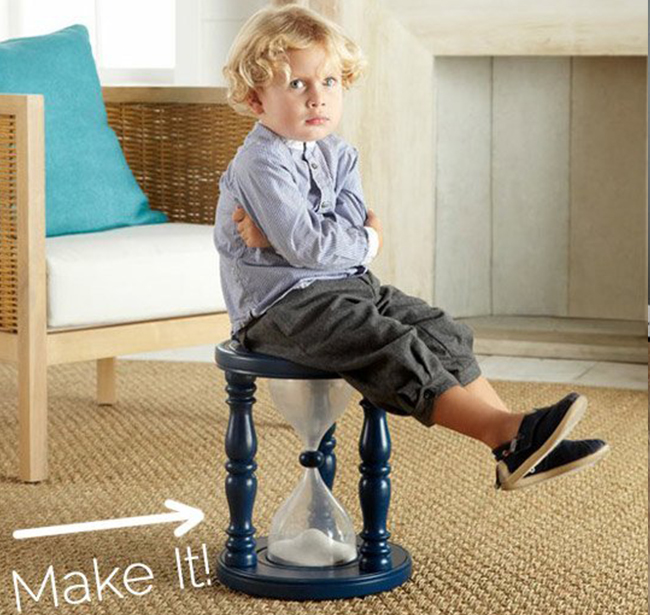 Photo : Wisteria
We could not finish without mentioning this hourglass stool "Time-Out Timer", in homage to our Temporary Shop, The Echappée Verte. We do note that this is a subject for professionals of DIY. On the website Apartmentherapy.com, you will find tips to do it yourself! It is ideal for little undisciplined children: a light and effective way to let them five minutes to reflect on this stool in order to cool down (or maybe not …). If you liked the idea but the side "do it yourself" a little less, you can buy it on Wisteria.
Don't you feel like trying?
Whatever happens, whatever model you choose to create, one thing is certain: when they ask you where you've discovered that wonderful stool, you can proudly answer: "I did it myself!"
So, would you try them out too? Do not hesitate to send us photos of your results!