Here are the main attractions of the Spanish pavilion that will be present at Expo 2015.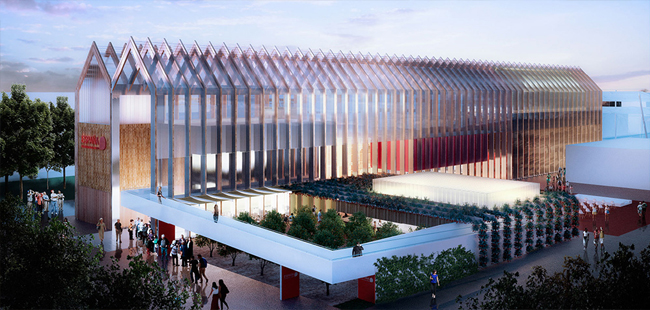 ©b720 Fermin Vazquez Arquitectos
1) Presentation of the Spanish Pavilion
Presentation
The issue of the participation of Spain at Expo 2015 is "Cultivating the future." With this pavilion, Spain wants to make visitors of the World Exhibition aware of its eating pattern and its agricultural production and to promote its creative and original cuisine. The country has been able to improve its distribution processes and modernize its commercial sector to increase productivity, achievement that contributed to the success of Spanish food production. Climate, landscape and environmental variety of Spain are the reasons of the wide variety of agricultural production. Food security and a sustainable development are strategic areas in Spanish food production, that exports high quality organic food all over the world. A sustainable agriculture allows to preserve environment, traditions and landscape. In the Spanish pavilion the issue of cultivation in arid areas will be a pivotal theme as well.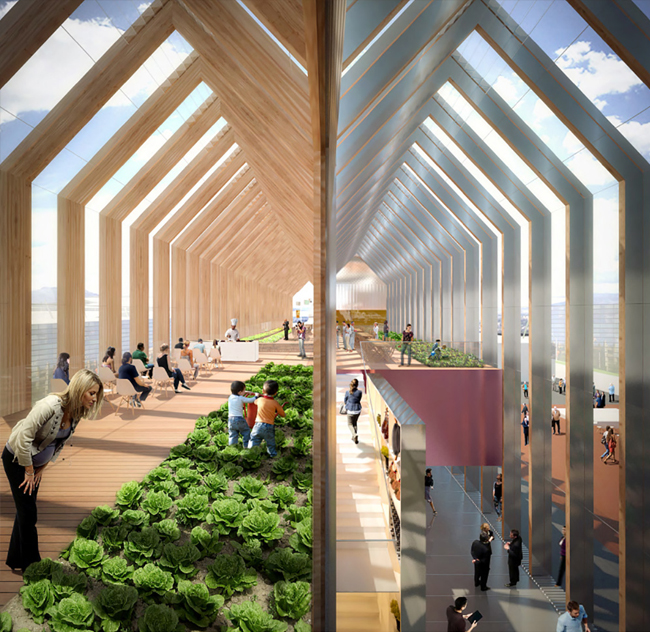 ©b720 Fermin Vazquez Arquitectos
QR code, digital sets, animations on various topics are next to kitchens, hydroponic gardens, an educational garden, a tapas bars and shops.
The design
The pavilion is 2104 square meters and was designed by B720 Architects.
The goals
The general objectives of the Spanish Pavilion of Expo 2015 are the following:
Supporting alternative tourism in relation to food and sustainable food production (agrotourism, farm tours, sustainable wine tourism, fishing tourism …)
Demonstrate that Spain guarantees food safety for its products,
Promote its food tradition, the Mediterranean diet and its agricultural and culinary innovation,
Enhance the creativity of its cuisine,
Contribute to a nutrition education.

The different spaces
The pavilion is divided in different spaces dedicated to territory and food products, in addition to a patio, a "Chiringuito" (snack bar) and an auditoriu


©b720 Fermin Vazquez Arquitectos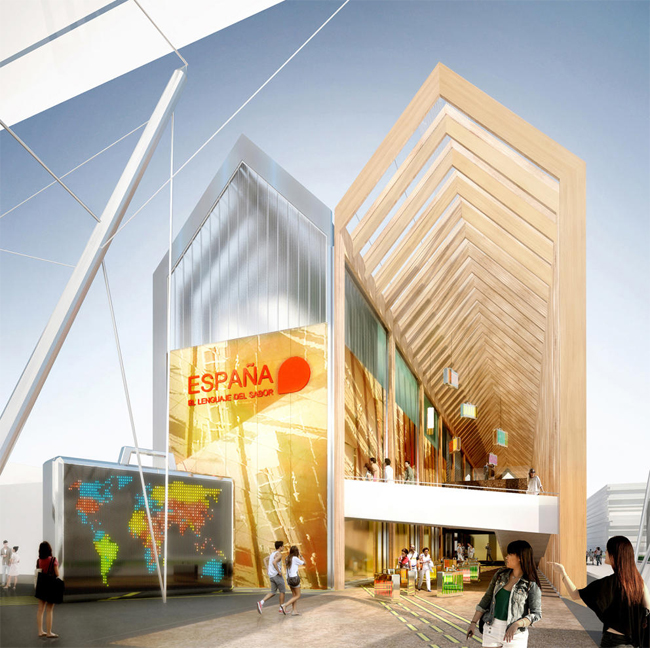 ©b720 Fermin Vazquez Arquitectos
2) Inspiration
Tradition and innovation of Spanish culture are represented by two large parallel blocks: the first is made of wood, the other is made of steel and contains both exhibition spaces. The temporary building has been built with recyclable materials and modules.
3) Spain and agricolture in numbers
Spain is the leading European producer of cucumbers: the country has produced about 600 000 tonnes of this vegetable in 2010, that is 19 kg per second.
The primary sector of economy with agriculture, livestock, forestry and fishing accounted for 2.6% of the country's GDP and 4.2% of employment in 2012.
32% of Spanish children between 3 and 12 years do not eat fruits regularly and 41% do not even eat vegetables daily.

Note :The pavilion was designed by b720 Architects (Fermín Vásquez, Albert Freixes, Eduardo Varas, Peco Mulet, Caterina Dominioni, Alejandro García, Valerio Decrecchio, Alberto Garcia, Gemma Ojea, Iván Arellano, Javier Artieda, Pablo Garrido, Julita Jaskulska, Annie Michaelides , Ourania Pappa), in collaboration with Roberto Vásquez, Manuel Artiz, Antoni Miralda (content), and Arquipielago B2fR Architects (architecture), Miguel Nevado (engineering of the structure), K2 Consulting sl (engineering services), Artec 3 (light design ) and Manuel Colominas (Landscape).