The theme of the Universal Expo 2015 in Milan is "Feeding the Planet, Energy for Life". The Thai pavilion (open from May 1 to October 31) addresses this issue in order to "nourish and surprise the world in a sustainable way."

© Expo 2015 http://www.expo2015.org
1) Presentation of the Thai pavilion
Presentation
The Thai pavilion faces four main themes:
«innovations to serve a dream»: to prevent hunger is one of the purposes of the Thai pavilion, as well as protecting the environment and ensuring a sustainable life for all human beings. In this area you will find a large ellipse in which videos, cards and acrobatic shows on the theme will be screened.
«sustainable development and a balance for life»: is a theme chosen by the King of Thailand himself, who takes to heart the agriculture of his country.
«flavors, aromas and streets of Thailand»: this theme is a presentation of the country's cuisine that reveals the spirit of Thai people. A reproduction of the streets and their flavors will be realized on the outside of the pavilion with a floating market inspired by the Bangkok of the time in which it was called "the Venice of the East". Boats loaded with local products will be placed on this aquatic facilities.
«roots and traditions of quality »: the earth is the root of farming. Visitors will find in particular the culture of rice.
Three elements are found in this hall: the range of agricultural products, water (a symbol of fertility and vitality) and the pagoda. A space will be reserved to the cultivation of rice.
A brick wall with a reflective surface will give a poetic effect to the pavilion: it will reflect the sky, visitors and rice fields, due to its inclination on three different angles.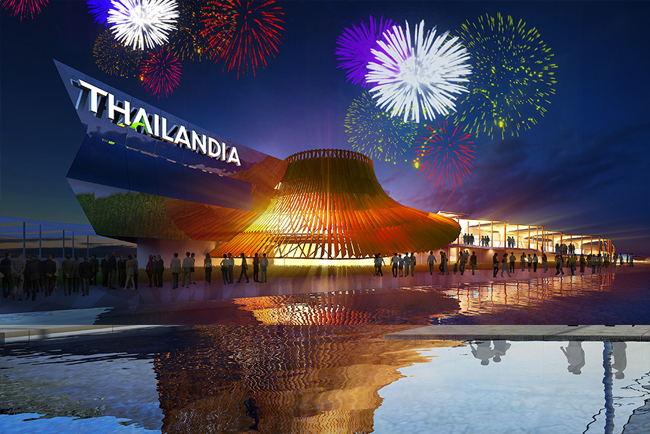 © Expo 2015 http://www.expo2015.org
The design
The pavilion covers an area of 2947 square meters. The project was made by OBA (The Office of Bangkok Architects).
Goals
The aim of Thailand in this pavilion is to present its vision of a better world and its commitment to agriculture. It is also an opportunity to make its gastronomic culture known to other people.
The different spaces
The pavilion is divided into four areas:
Hall 1 : the natural fertility of Thailand is at the center of this area of exposure with a representation of mountains, plains and coasts staged by holographic projections.
Hall 2 :Thai cuisine is revealed in every detail
Hall 3 :4000 projects supported by the king for 60 years in agriculture.
In the Thai pavilion, visitors can discover a new generation of supermarket with QR code, LCD screens and the ability to download real-time recipes of Thai cuisine.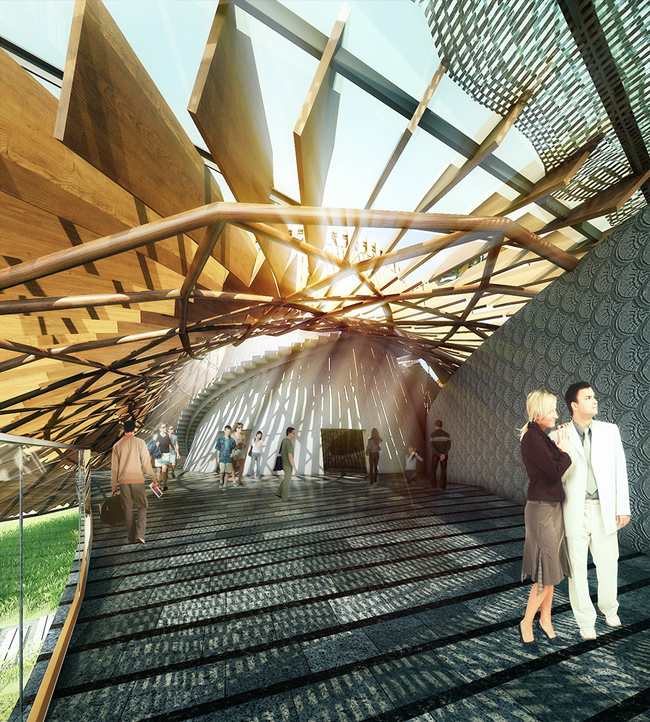 © Expo 2015 http://www.expo2015.org
2) Inspiration
The structure of this pavilion refers to two elements of Thai culture. The traditional headgear of the rice farmers, the "Ngob", is represented by a huge wooden structure in one of the inputs: it was chosen because it represents the knowledge of Thai farmers and their wisdom.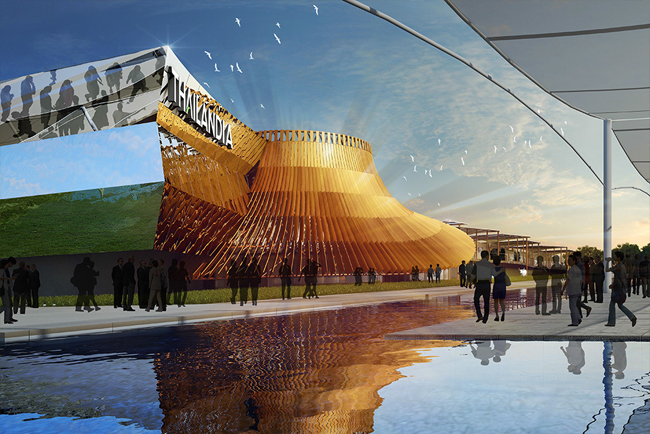 © Expo 2015 http://www.expo2015.org
The shape of the "Naga", a snake belonging to Thai legendary mythology, is represented in a sinuous line in another entrance to the ramp. The brick wall is inspired by the temples of the country.
3) Thailand and food in numbers
In Thailand, 41.3% of the land is devoted to agriculture.
40.7% of the active population works in agriculture.
In 2011, 7.30% of Thais were undernourished: in sharp decline since the 90s (in 1991 were 43.8%)